9 Advantages of Using Steel in Construction Projects
January 9, 2023 in
Blog
/
Construction
/
Structural Steel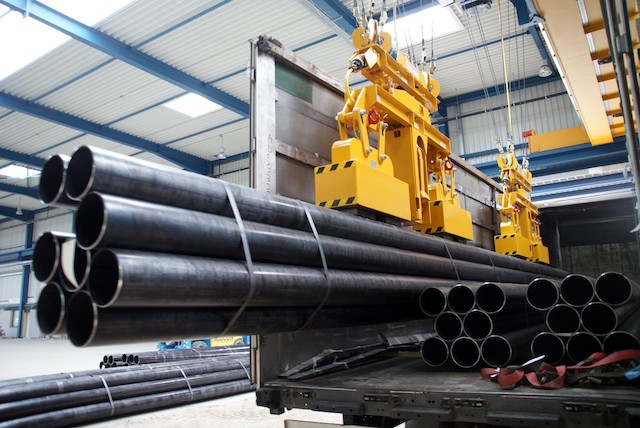 So, your construction firm is in the running for a major construction contract. You're putting the finishing touches on your bid. But you still need lower construction costs. Yes, inexpensive building materials can make your bid stand out. But you want this construction gig to last and to impress your clients. And that's where the advantages of steel in construction should enter your presentation.
Before presenting your next construction bid, read about the benefits of steel construction. Steel helps save on the budget and can save unwanted expenses. Are you a production coordinator having difficulty finding materials due to shortages? There is still time to consider steel construction in your construction projects. Reliable and durable, read why steel construction makes your construction firm stand out.
The Main Advantages of Steel in Construction
Construction coordinators turn to steel because of its high availability. As a result, steel makes up over half the demand for building materials. And if you to build a build, consider steel.
Also, construction coordinators can buy steel in forms like rebar or raw. Of course, construction firms can rely on Bushwick Metals for their construction projects. We also assist construction coordinators and firms with steel construction management. Also, our steel is carbon-based. So, construction firms can build sound and environmentally friendly buildings.
Steel Construction Helps the Environment
Construction firms are mobilizing to be carbon compliant by 2050. The advantages of structural steel in construction helps reduce carbon emissions.
Unlike lumber, which requires many trees to be cut down, steel is recyclable. Firms and coordinators can repurpose it for other steel construction. For example, wide flange beams made in America consist of over 90% scrap metal.
It helps Save on Energy Costs
As energy bills continue to soar, your firm can save clients money with steel. One of the advantages of steel in construction is its energy efficiency. Interior steel beams, for example, can store energy inside buildings.
The benefits of steel construction tie into renewable energy. So, for example, you can use steel construction for roofing to install solar panels. Steel construction also supports geothermal energy. Furthermore, steel also reinforces window panels. That way, firms can add another layer of tightness to keep out cold air.
Steel Construction Reinforcement
Steel constructions works best for infrastructure projects. Steel works with water distribution projects. Coordinators can use use steel like rebar as extra support for power stations. And the same is true for gas systems. Firms can read our blog about the benefits of rebar.
Steel Is a Light Load
Besides its reputation for strength, steel is also a light construction material. Concrete production coordinators can use steel as a lighter and cost effective alternative. It's also not a headache for coordinators to move steel. Bushwick Metals has warehouses throughout the New England states. We take the lead in steel supplies for Northeast construction projects.
Steel Has Many Construction Options
Steel construction also welcomes creative opportunities. Architects can use steel structures to produce stable works of art.From simple to complex coordinators can use our steel-shaping services for construction projects. Didn't plan for expansion? No problem. Steel construction gets the job done.
If you need to add an extra office, you can use steel to build into and expand the current structure. Also, expanding with steel doesn't interfere with or compromise the current building's integrity. Steel construction doesn't have to be for permanent buildings. The advantages of steel in construction also apply to temporary buildings.
Specialists like welders can break them down. Also, the same steel is reusable for other construction projects.
Steel is Durable
Construction firms should invest in steel construction because it's affordable and durable. Steel requires next to no maintenance. As a result, it can withstand rotting and other weather damage. Also, galvanized steel aids in avoiding rust. Furthermore, steel construction is essential for earthquake and seismic activity support.
Unlike lumber, which can warp over time, steel doesn't warp. Steel, yet, has high ductility properties. These advantages of structural steel in construction can save on costly repairs.
Steel Construction Saves Time
The time to finish construction can make or breaks bids. Steel construction saves time because firms can buy them in sheets, beams, and other forms. This can save you time molding and shaping the steel.
Steel Construction Is Fire Resistant
Unfortunately, wooden construction projects present high fire risks. But, construction firms don't have to worry about high levels of fire danger with steel. Our steel is built with a high carbon alloy. This same alloy has flame-retardant layers.
Steel Construction Helps Against Pests
Another headache for construction projects is keeping out rodents and other pests. One of the underrated advantages of structural steel in construction is pest control.
Steel materials prevent rodents from chewing their way inside. Also, steel construction also wards off bugs and insects. Thanks to this, you can reduce property damage repairs.
More About the Advantages of Steel in Construction
Construction firms have relied on Bushwick Metals for over one hundred years. Second, to none, we are the undisputed steel supplier in the Northeast region. From panels to decks, we offer the materials to meet your construction projects. Our advantages of steel in construction extend beyond our inventory. With Intsel Steel, Bushwick Metals remains steadfast for our next-day delivery services. We have warehouses throughout the east coast. And we only use high-grade steel materials. So coordinators can rely on consistent results and durable construction projects.
Contact Bushwick Metals today to help you with your construction projects. We also can cut and shape steel to meet your specialized demands.