Steel Supply In Rhode Island | Next Day Delivery
October 17, 2022 in
Blog
/
Steel Supply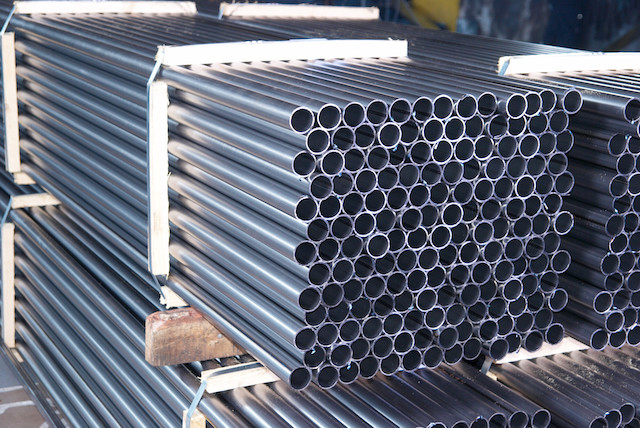 As of August 6, 2022, the year-to-date production of steel was around 54.47 million net tons.
For a long time, steel has been the backbone of Rhode Island. Although there's been a worldwide pandemic, the need for steel in Rhode Island hasn't stopped. Whether your construction project is commercial or residential, you'll need to procure steel for your project.
At Bushwick Metals, our materials are always of the highest quality. All of our materials come from top-rated manufacturers, and we offer various finishing techniques. Read on to learn everything there is to know about steel supply in RI.
What Makes Bushwick Metals Better?
At Bushwick Metals, we maintain one of the largest supplies of steel parts in the US. Our vast range of products and commitment to customer service makes us the best choice when looking for a steel supplier in Rhode Island. We excel not just in terms of what we have, but also in getting it out to you.
As the leading steel distributor in RI, we offer next-day delivery throughout the state. Whatever parts you need, we'll make sure you get them as soon as possible. This can be vital if you're working on a time-critical project. We've been in business for over 200 years, and this has given us a lot of experience in supply chain management. When working on a big project, it's likely that you won't have enough room on-site to store all the parts and materials you need. We can help with this by ensuring we bring out parts as and when you want them. We'll discuss your entire project with you, and develop a plan so that we can make regular deliveries with the products you need. If anything changes, just let us know, and we can make any necessary adjustments. We also offer a range of value-added services to make sure you get the exact parts you need to complete your project.
Value-Added Services
Despite how comprehensive our stock is, there are plenty of projects that will require more specific parts. To ensure you always have what you need, we provide value-added services through which we can take standard parts, and alter them before we deliver them to you.
Saw Cutting
Most of our products are available in a range of sizes. You can cut these down after we deliver them to you, but if you want to save some time we can take care of this at our facility. We have multiple saws along with decades of experience, ensuring we can get beams, pipes, and more cut to the perfect size for your project.
Shearing and Bending
With our shears and press brakes, we can machine sheet and plate metal as needed. Most job sites don't have the equipment to do this, but we can get it done quickly and accurately so that the parts are ready to use as soon as you have them.
Plate Processing
As one of the most widely used steel products, we offer a range of plate processing techniques. This includes things like drilling, tapping, milling, countersinking, and oxy-fuel cutting. All of these processes are done with a single machine to maximize efficiency. This helps to reduce turnaround times so you can get on with your project, and it keeps costs down.
Section Bending & Cambering
It's not uncommon to need things like beams, popes, angles, channels, and more to be bent. We can easily take care of this, bending parts to almost any shape while maintaining a high level of accuracy. Our capabilities are just as effective when it comes to cambering. We can camber a beam up to 40″ wide quickly and accurately. (Min length – 25′).
Tee Splitting & Straightening
Traditionally, tees are split using thermal cutting methods. The problem is that this can bow and twist them, causing them to split. To avoid this, we use a rotary-mechanical shear. This results in straighter tees as they're put under less internal stress. Along with our roll-straightening, we're able to provide some of the straightest, highest quality tees available.
Custom Roll Formed Floor and Roof Deck
We can roll out type B 1.5″ roof deck, as well as 1.5″ composite floor deck from 16 gauge to 22 gauge. This can be anywhere between 3 and 40 feet long, and we offer painted and galvanized finishes.
Our Products
We have more than a century of experience as a steel supply company, and a business doesn't last that long unless it provides quality products. Each of our locations is stocked with a full range of different parts, allowing us to boast one of the most comprehensive ranges in the entire steel industry.
Some of the more common products we have ready to go are:
Bars
Angles
Channels
Beams
Pipes
Tubing
Plates
Sheets
We also have much more on top of this. Whatever you need, we've almost certainly got it. On the rare occasions when a customer needs something we don't stock, we can get it ordered in.
Over the years, we've built a vast network of connections, giving us access to various other companies in the steel industry, so we can get exactly what you need.
Steel Supply in RI
If you need a reliable steel supply in RI, Bushwick Metals is the answer. We work to source the highest quality materials and get our steel construction supplies out to you as fast as possible. With our next-day delivery, you can be sure that your project won't come to a standstill, keeping things efficient and productive.
If you're ready to get started with ordering your Rhode Island steel supplies, click here to request a free quote from us today.