Steel Beam Delivery Services: Take Advantage Of Next-Day Delivery
April 18, 2022 in
Beams
/
Structural Steel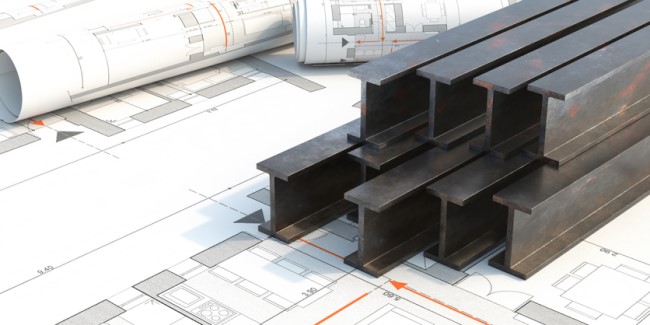 These days, sourcing high-quality steel beams is not easy. Issues with the supply chain have caused so many delivery delays that projects across the country are on hold. In the Northeast, these delays are even worse. Thanks to those famous East Coast winters, a lot of deliveries are halted by issues like snow, ice, and extreme temperatures. Luckily, there is a way to source your steel beams quickly and efficiently. Bushwick Metals offers a super speedy, next-day steel beam delivery service.
This special service is available all across the Northeast in states including New York, Maine, New Jersey, and Connecticut. But, can you source steel beams from Bushwick Metals? And what kinds of orders does the company accept? Read on to learn more about the steel beams that you can order via our next-day delivery service.
What Kinds of Steel Beams Do You Offer?
Bushwick Metals offers three major categories of structural steel beams, each representing one of three steel grades: A992/A572-50, A588, and A36. We stock all three of these products in an impressive number of sizes and profiles. As a result, most projects can source their materials from our stock.
The best part is that we deliver our supplies in a ready-to-use state. This means that you won't have to make any major adjustments to our product before adding them to your project. This means that you can simply receive your order and be free to weld, bolt, or rivet away! Below, we have included some additional information about our offerings.
A99/AA572-50
This is one of our best-sellers, as it is useful in most construction projects. These beams are very strong, yet relatively easy to weld. While this might sound counterintuitive, it is possible due to the precise materials mixed into the alloy. This grade contains both columbium and vanadium, making it both strong and weldable. Its minimum yield is 50 ksi, while its minimum tensile strength is 65 ksi. This means that you can use it in situations of high corrosive resistance in addition to weight reduction.
A588
If you are looking for something with high corrosion resistance, this is the steel beam for you. The A588 is a steel alloy that includes copper. As you probably know, copper-bearing steel is much less likely to corrode.
In fact, this particular grade has two to four times the corrosion resistance of a copperless carbon steel. As a result, we highly recommend this product to anyone building in an area known for atmospheric corrosion.
The A588 is also considered a high-strength beam. It offers a minimum yield of 50 ksi and a minimum tensile strength of 75 ksi. Like the A99/AA572-50, the A588 can be used in situations of cost savings from weight reduction.
A36
This is our most affordable steel beam, as well as our most weldable one. The A36 is a low-carbon, hot-rolled steel that is also considered a "mild steel."
It doesn't have the same strength as the A99/AA572-50 or the A588. Its minimum yield is 36 ksi, while its minimum tensile strength is 58 ksi. This means that the A36 is ideal for general structural applications and bridges. We source this particular product through a special order straight from the mill.
How Are You Able to Guarantee Next-Day Delivery? What About the Supply Chain?
This is one of our most common questions. Because of the current supply chain situation, many customers marvel at how quickly we are able to source and deliver our products. However, Bushwick Metals has a few advantages that help us circumvent many of these challenges.
To begin with, we have one of the most extensive collections of steel beams in the United States. We are constantly sourcing our materials from producers located all across the globe. As a result, our stock is quite full of beams in a wide variety of shapes, sizes, and materials. We offer everything from HP Shape beams to l beams and Junior beams. Our stock even includes Wide Flange and H beams. We keep our supplies full so that we can offer you excellent products as soon as you need them.
Does My City Qualify for Next-Day Steel Beam Delivery?
We are a steel distributor located in the Northeast of the United States. Because of this, we only offer our next-day delivery service to people located in this part of the country.
Whether you are based in a major metropolis like Philadelphia or a small town in northern Maine, we have got you covered. Bushwick Metals has a lot of experience delivering our products, even in difficult circumstances. However, if you are located in another region and are interested in placing an order with us, please get in touch. We can give you an idea of whether it is possible to place your shipment and how long it will take to deliver.
Get in Touch With Us Today
Are you tired of waiting weeks, or even months, for your steel beam delivery to arrive? Would you like to do business with a steel distributor who can get your products to you in a timely fashion? If so, you should reach out to us today.
Click here to fill out our contact form. We would be more than happy to answer any of your questions about our next-day delivery service.
Alternatively, you can always ask us for a quote to help you estimate the cost of your next project. Our mission will be to supply you with high-quality steel beams in record time.