NJ Steel Supply At Bushwick Metals
January 7, 2022 in
Blog
/
Steel Supply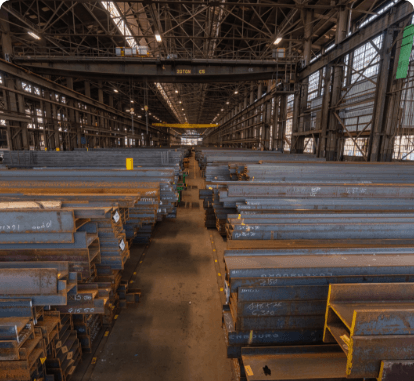 In 2020, amid the Covid-19 pandemic, the global steel market was estimated at 1.7 billion metric tons. By 2026, this is expected to grow to 2.2 billion metric tons. Steel has become one of the most essential materials across a number of industries in today's world.
Being such a versatile material, there are a huge number of ways steel can be used. A good understanding of the capabilities and options when it comes to steel is essential. Bushwick Metals is a market leader when it comes to steel supply in NJ. If you want to know about the products and services we offer, keep reading.
Types of Steel
Steel is an alloy of iron and carbon, but various types can be made. The amount of carbon, and additional alloying elements, determine the type of steel. The manufacturing processes used can also affect the final product.
Carbon Steel
The carbon content of carbon steel must range from 0.05 to 2.1 percent. It is named as such due to an almost complete lack of other alloying elements. Carbon steel is split into three categories: low carbon, medium carbon, and high carbon. These contain roughly 0.3%, 0.6% and 1.5% carbon respectively. Carbon steel is widely used for many applications, including buildings, bridges, cars, pipelines, and tools.
Alloy Steel
Steel can be alloyed with other metals to produce certain characteristics. Metals such as nickel, aluminum, and copper help to make the steel more corrosion/rust-resistant. They are also relatively cheap elements to include. Common uses of alloy steel include ship hulls, car parts, pipelines, and mechanical projects.
Tool Steel
As you can probably guess, this type of steel is named as such because it is commonly used to make tools. Some common elements added to this are tungsten, molybdenum, and cobalt. These make the steel very tough as well as heat resistant.
Stainless Steel
Possibly the most well-known type, stainless steel has a distinct luster, so it is not uncommon for it to be used for aesthetic purposes. The main alloying element is chromium, usually 10 to 20%. This helps make it corrosion/rust-resistant and makes it easy to mold during the fabrication stage. The ease of manipulation makes it a common choice for surgical equipment, silverware, home applications, and cladding on buildings.
Bushwick Metals Products
Bushwick has everything you need when it comes to NJ steel supply. Over the years, as the company has grown, so too have the products we can produce.
We readily stock a number of products, including:
Rebar
Angles
Beams
Bars
Channels
Expanded metal and grating
Decking
Sheets
Tubing
Piping
Plates
Heavy structural parts.
For more unique applications, we are also able to provide a large number of special-order products from all over the world.
What Are Value Added Services?
One of the main goals at Bushwick is to be able to handle all of your needs when it comes to steel. As such we offer a wide number of services to provide solutions for all applications.
Saw cutting – the capability to cut beams up to 44″ flange size, 24″ x 44″ bundle sizes, and lengths up to 70′
Plate processing – facilities to perform drilling, tapping, milling, countersinking, carbide scribing, oxy-fuel cutting, and high-definition plasma cutting
Shearing and bending – we can cut sheets from 16 gauge to 5/82 thick, and bend sheets up to 1/2″ thick and 12′ long to almost any shape required
Section bending – able to bend bars, beams, angles, channels, pipes, tubes, and tees to almost any shape
Cambering – multiple cambering lines to camber beams up to 40″ wide
Tee splitting and straightening – rotary-mechanical shear and roll-straightening device to split tees and make them as straight as possible
Custom roll formed floor and roof deck – we can roll type B 1.5″ roof deck and 1.5″ floor deck from 16 gauge to 22 gauge, painted or galvanized
All Bushwick staff are fully trained and dedicated to ensuring all work is carried out to the highest standards. Bushwick warehouses run around the clock, so meeting even the tightest time requirements is no issue.
More Than Just Steel Supply in NJ
Bushwick has been working with steel for over 100 years. As such, we have an excellent understanding of the steel industry. Our main goal is to support your success. We want to go beyond just delivering high-quality products and offering excellent service.
If you are in need of any assistance with inventory planning or supply-chain support, the team at Bushwick is always happy to do what we can to help. Lead times, international purchasing/shipping processes, and market states are aspects that can be difficult to understand. Through these, we can predict future pricing trends to give ourselves, and you, an edge when it comes to purchasing decisions.
Materials management is another area we can provide expert advice in. Proper planning, purchasing, storage, and distribution are key to achieving success in your business. We offer next day steel delivery across the whole of New Jersey. With such a streamlined chain supply, you won't need to worry about storing large amounts of steel. This helps in terms of saving on storage space and reducing aged inventory costs. You can also worry less about the financial risks that come with making large inventory investments.
Whatever You Need
This is just a broad overview of what Bushwick has to offer. Over a century of experience has made Bushwick one of the leading suppliers of steel across the South, Northeast, and Midwest United States.
If you are in need of reliable steel supply in NJ and want to find out more about our products, services, or delivery, click here and let us know how we can help!