Hot Rolled Round Bar Steel Grades: A Full Breakdown
July 18, 2022 in
Blog
/
Rolled Steel
/
Steel Bars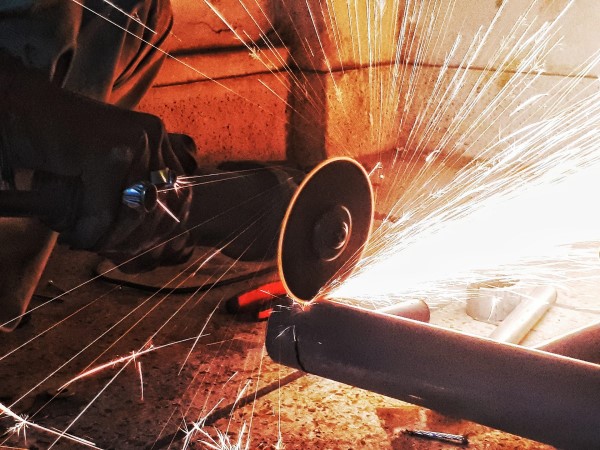 Steel that has been rolled at a temperature higher than its recrystallization temperature (often 1700 F or above) is referred to as "hot rolled". The treated steel has more formability and workability than unprocessed steel, making it simpler to work with in the following processing steps.
The hot rolling process begins with a billet, which is a huge, rectangular piece of metal. The billet is first heated and rolled into a big roll. It travels through a sequence of spinning rollers while still hot to attain the correct size. The rolled steel is subsequently twisted into coiled rolls and allowed to cool in sheet metal manufacturing processes. The processed material is chopped into the appropriate units and packed into manufacturing activities involving additional forms.
The Benefits of Hot Rolled Steel
Hot rolled steel has various benefits in the production process, including:
Affordability: Because it requires less processing, hot rolled steel is often less costly than cold rolled steel.
Minimal internal tension: Hot rolling requires cooling steel over time, allowing it to normalize its microstructure and eliminate internal tensions.
Improved usability: The hot rolling technique results in a material that is easier to mold and shape because of the material's increased workability.
Hot Rolled Round Bar
The lower cost and low carbon content of hot rolled round bar (also known as long products, re-rolled bar, and merchant bar) make it an excellent choice for a wide range of applications. Forging, fabricating, and machining operations may be performed with no need for specific equipment or heat treatments because of the steel's low carbon content (0.22 percent max) and low yield point (275N/mm2 min).
Pickling and oiling (P&O) or a variety of abrasives, including shot blasting, may remove the surface scale off the bar's exterior while it is in the AR (as rolled) state. Due to a fast temperature shift during shot blasting the scale offers a limited level of protection against mild corrosion. A rust-like tint may emerge due to humidity and the steel's mineral composition.
Hot rolled steel is no different from the rest of the metals when it comes to manufacturing tolerances. A billet or bloom is heated to roughly 1200C and passed through a sequence of rollers comprising roughing, intermediate, and finishing. The bloom length or billet is increased by using these rolls, which lower the cross-sectional area. At this point, the section is also generated in terms of its form and specified measurements. The pace at which the steel cools after exiting the furnace is essential to its qualities and appropriateness for use, as the steel cools from 1200C to roughly 900C.
The temperature drop from hot rolling to cold and no additional polishing before end usage makes it impossible to regulate section tolerances properly. Tolerances range from 0.4 mm to millimeters on bigger sections, depending on the size of the piece. Greater precision of 0.2 mm or less is necessary for bright drawn and peeled and ground components.
Hot Rolled Steel Bars Grades
For general-purpose applications, hot-rolled steel bars are employed. This steel has a low carbon content and high mechanical qualities in general. The standard structural procedures, such as moderate cold and hot shaping and welding, are simple to implement.
Below is a detailed breakdown of the grades, applications, and sizes available round shaped bars.
| | | | |
| --- | --- | --- | --- |
| GRADE | ASTM | Sizes | Length |
| 1018 | A576 | Round from 1/2″ to 12″ | 20′ RL |
1018 is a manganese-rich, low-carbon steel that differs from mild steel as well as other low-carbon steel. This is superior steel for carburized components since it's higher in manganese, which results in a tougher, more uniform casing. It also has improved machining qualities and mechanical properties, such as Brinell hardness. Chemical composition, heating, rolling, surface preparation, and other manufacturing controls are all employed in its manufacture. As a consequence, a high-quality product suited for forging, heat treatment, cold drawing, machining, and other applications is produced.
Application: Because 1018 is an excellent carburizing steel, it's ideal for pinions, gears, kingpins, worms, chain pins, liners, oil tool slips, and ratchets that need a high surface hardness with a relatively soft core. Tie rods, anchor pins, studs, special bolts, and other items are often specified in 1018.
| | | | |
| --- | --- | --- | --- |
| GRADE | ASTM | Size | Length |
| 1045 | A576 | Round from 1/2″ to 12″ | 20′ RL |
In the production of 1045, special controls for heating, rolling, chemical composition, surface preparation, and other aspects of medium-carbon steel manufacture are utilized. These bars may be used for forging, heat treatment (including flame hardening), cold drawing, machining, and other applications as a consequence of their meticulous preparation.
Application: When lower carbon steels aren't strong enough, this steel should be used instead. It becomes even stronger when heat treated. Alloy steel is often used in the construction of automobile and heavy equipment components, as well as in stud bolts and other types of fasteners.
| | | | |
| --- | --- | --- | --- |
| GRADE | ASTM | Size | Length |
| 1141 | A576 | Round 2″ to 12″ | 20′ RL |
1141 is manganese steel with modest carbon content. It's melted to meet unique bar grade and fine-grain standards while maintaining excellent consistency and homogeneity. Strength properties are vital in the as-rolled form, and heat treatment may increase hardness and strength. Because of the inclusion of sulphur, the machinability is great.
Application: This grade is advantageous in applications requiring superior machinability and increased strength, such as shafts, studs, axles, tie rods, bolts, and so on.
| | | | |
| --- | --- | --- | --- |
| GRADE | ASTM | Size | Length |
| A36 | A36 | Round from 1/2″ to 3″ | 20′ RL |
This steel has a low carbon content and excellent overall mechanical characteristics. It is simple to make using standard structural procedures such as moderate cold and hot shaping and welding. It is simple to make using standard structural procedures such as moderate cold and hot shaping and welding.
Application: This material is utilized for non-critical and general purpose structural applications involving moderate cold bending, mild hot forming, punching, and welding. General machine components, agricultural tools, transportation equipment, and so on are examples of this kind of use for the material It's employed in situations when seams and other minor flaws in the surface are acceptable.
At Bushwick Metals, we can accomodate all of your hot rolled round bar needs. Feel free to contact us with questions or request a quote directly.