Structural Steel Grades Explained
May 2, 2022 in
Blog
/
Structural Steel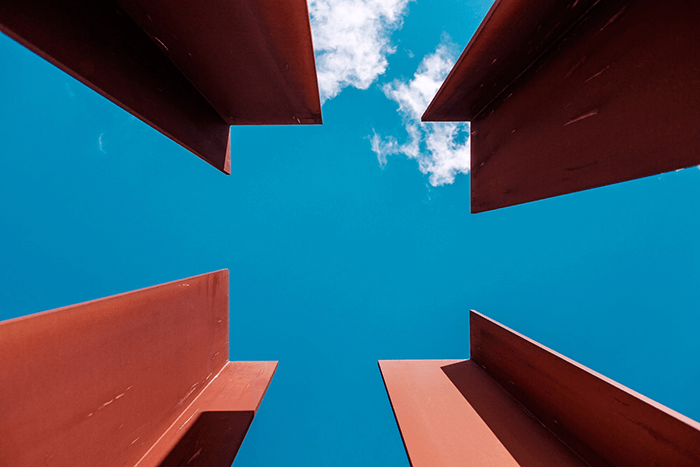 On the subject of structural steel grades, many people get confused about which one to use and why it matters. Structural steel is its own category because of three important reasons. The geometry, the composition of the metal, and the size. I-beams are a classic example of what people expect when they see structural steel, but there are many other shapes as well.
The first standard for structural steel goes back to the formation of the American Society of Testing Materials (ASTM) and the first standard for structural steel used for buildings, the A9 standard. This standard is over 100 years old, published in 1900.
Structural Steel Grades: Why So Many Standards?
You may wonder why there are so many structural steel grades, and why bother buying steel of a certain grade when there's an "equal grade" more accessible.
Common structural steel grades follow a number of standards that govern corrosion, mold growth, fire resistance, strength, constructability, and other characteristics. Steel has fantastic strength to weight ratios, but without standards, you'll never know what you're going to get.
You know, for example, an A572-50 is a high-strength low alloy structural that's made using hot-rolling. Also it can support a minimum yield strength of 50 ksi or 50,000 psi, which is another important point. You know it's an iron or steel alloy from just looking at the number prefix, and the rating — if you can read your standards correctly.
Knowing that material went through fabrication in a standard way, with standard ingredients, will give you a standard and reliable result. This was one of the biggest problems with steel, iron, and other materials in the late 1800s and early 1900s. It prompted many organizations to form to control manufacturing and materials standards. There are other international standards you can also look to for steel, such as ANSI and SAE.
Different standards are often applied to different industries. For structural building materials, the two major standards you'll see are ASTM and EN numbers. Two of those standards we'll cover now.
ASTM Standards
ASTM stands for the American Society of Testing and Materials. It's the go-to organization for standardization in the world. Membership is voluntary and open to all interested parties. Less than 50% of a committee setting a standard can be producers of the material to stem antitrust problems.
Formed in 1898, ASTM predates the IEC, DIN, ANSI, ISO, and AFNOR associations and organizations. A group of engineers and scientists started ASTM International to solve material problems for the expanding new railroad industry.
There are five types of ASTM international standards that are specified. It includes:
A: Iron and Steel
B: Nonferrous Metals
C: Ceramic, Masonry, and Concrete
D: Miscellaneous Materials
E: Misc. Subjects
F: Materials for Particular Applications
G: Deterioration, Corrosion, or Degradation
Various governments reference ASTM standards actively to enforce high product quality, safety, market access, and health. While ASTM doesn't actively enforce compliance to their standards, many organizations require the standards to be followed when specific materials are used. It can also become compulsory when specified by an external contract by the government, a corporation, or an interested stakeholder. The US government has several regulations requiring ASTM standards to be rigorously followed.
A36: Covers low-carbon variants of steel. A36 steel has 98% iron, 1.03% manganese, and other minor compounds. The steel can be hardened through various methods, depending on what industry it is being used in. This standard is most commonly applied for structural steel when used for large structures. Apart from the construction industry, the aerospace, automotive, oil, and gas industries also utilize it.
A500B: For cold-formed welded and seamless carbon steel structuring tubing in square, round, and rectangular shapes. In the US, it is mainly used for hollow structural sections. Grade B for A500 needs to have a minimum yield of 290 MPa.
A572-50: This standard is only used for HSLA (high strength low-alloy) steel. It is considered a workhorse grade of steel. Less material is required when you compare it to other steel grades in terms of strength. It is generally applicable in construction and structural applications.
A588: This is also used for HSLA steel. It is primarily applicable in structures like bridges and buildings. However, it's different from the A572-50 standard as the steel requires atmospheric corrosion resistance too.
A992: Standard used for structural steel alloy. It is applicable for wide-flange and I-beams. It is the most commonly used in the construction industry.
A6-19: This is the standard specification for rolled structural steel plates, bars, sheet piling, and shapes.
A131-19: Specification for structural steel plates generally used in the shipbuilding industry. They need to have minimum yield strength of 34 KSI; however, this depends on the grade.
A143: The standard for safeguarding against embrittlement of hot-dip galvanized structural steel products. It also outlines the processes that must be utilized to detect embrittlement. While embrittlement isn't a common occurrence, this standard must be applied to ensure that the steel doesn't fall when exposed to harsh circumstances.
A148-20e1: The standard specification for steel castings covers carbon steel, alloy steel, and stainless steel. All castings have to undergo heat treatment through specific methods.
A242-13: This covers HSLA steel plates, shapes, and bars, specifically for welded, bolted, and riveted construction that are used for construction where weight-saving and better durability are required.
Standards At Bushwick
Common I-beam standards carried by Bushwick Metals are:
A36
A500B
A572-50
A588
A992
Other standards are available though. There are ASTM standards for carbon steel, high strength low alloy steels (HSLA), corrosion-resistant HSLA, quenched and tempered alloy steels, and forged steels. All other standards that include structural steel application between A0 and A500 are:
A6-19
A131-19
A143
A148-20e1
A242-13
But there are dozens more, including HSS (hollow structural section) standards in the A1000 standards. The ASTM International standards designated "A" are equal to iron and steel materials, and where almost all structural steel standards are. A36 is probably one of the most common standards required in using structural steel. Whatever your need for structural steel standards and sizes, availability is on request.
CEN & European Standards
In the European economic area, you'll also find other standards that steels need to conform to. Since we have a globalized economy, steels can conform to more than one standard at a time for given regions.
You may have wondered, looking at different products, why there's a "CE" stamped on them, like on some electronic devices as well. The CE is a marking that stands for Conformité Européenne. French is the official language of Brussels, where the head of the EU is, so this is French for "European Conformity."
While it isn't a standard in and of itself, the CE marking is applied to standards that conform to the EU economic zone standards. These are not US standards, but given the international nature of construction sourcing, you may encounter plans giving two different standards that can be utilized.
European Committee for Standardization has a number of "EN" or Euronorm standards for I-beams are:
EN 10024
EN 10034
EN 10162
The main standards that cover a number of other steel hardware, tubes, fabricated steel, and steel sections or plates are:
EN 1090
EN 10025
EN 10210
EN 10219
EN 14399
EN 15048
This is by no means an exhaustive list of standards on iron and steel, however. Because there are so many standards that seem equal, is it okay to mix your standards?
Mixing Standards Is A Bad Idea
Often there is a mixup when looking at standards for steel, like A36 (that doesn't specify hardware) and standards for like A325 (specifically for hardware).
You might have thought something along the lines of "the steel looks similar in specification, it should work fine!" It's true that chemically they're nearly identical, as well as physical properties like tensile strength. The shape is the biggest difference, as well as purpose. If you find yourself doing this, think again!
For example, the standard for Grade 5 SAE bolts has a different hex head configuration — a finished hex. A325 has a heavy hex head, so while you can probably find a Grade 5 heavy hex, you think you might be in the clear. Wrong again. The thread structure is designed for the structural integrity of a building when it comes to structural steel. Not only that, but they're designed for heavy hex nuts, with both Grade 5 and A325 conforming to different thread size standards.
Structural bolts under ASTM also have specific requirements in mind. A307A and A307B bolts in particular are shaped to their purpose. A307A and A307B have the same minimum tensile strength of 60 ksi. A307B bolts have a maximum tensile strength of 100 ksi, designed to break beneath the head should it reach this level of tension. A307B bolts are used in pipefitting flanges and designed to break before the flange.
Grade 5 bolts would destroy the much more expensive flange, and may even cause the pipe to explode if pressure builds too high, risking lives. If you have a specific structural purpose and specification like A36, it's best to go with the specifications it's meant to match, such as A307 or A325.
Explained: Structural Steel Grades
Structural steel grades can be a confusing (and expensive) thing to figure out. We hope this explanation of common structural steel grades helps you understand it a little better. The truth is that without an engineering manual and experience, it's tough to know what you need even when you understand how the standards work. Leave the engineering work to the engineers, and the sourcing work to us.
Bushwick Metals has been serving the needs of US customers in structural and decorative steels for over 100 years. We have a global sourcing network to bring any metal specification you need to your doorstep, often in only one business day. Contact Bushwick Metals today for the advice and materials you need!