Bulk Steel Tubing At Bushwick Metals
October 8, 2021 in
Blog
/
Steel Tubing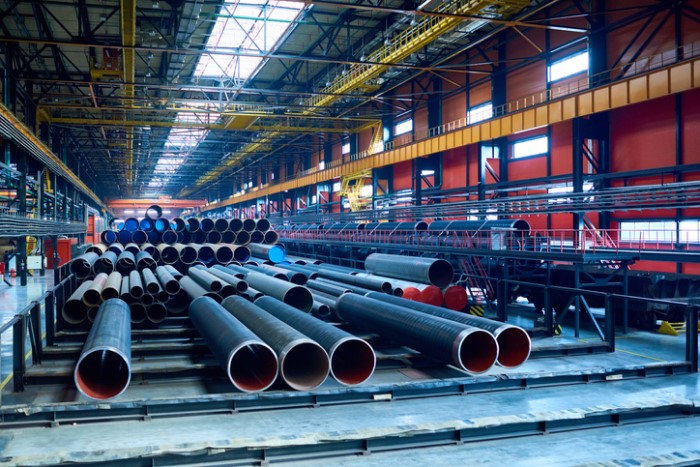 One of the most useful materials in the manufacturing and construction industries is stainless steel. It's strong, long-lasting, corrosion-resistant, and versatile. Steel tubing is a common use for stainless steel.
But how do you get bulk steel tubing? The demand for stainless steel tubing is growing rapidly, but the industry is lagging. Picking the right supplier is crucial if you want to get your materials on time, and in the amount and style that you need.
Keep reading to find out how to do this right.
The Many Uses of Steel Tubing
Steel tubes are one of the most common materials in construction and manufacturing. You can find steel tubes in fence posts, plumbing, bike racks, traffic barriers, HVAC systems, refrigerators, medical equipment, airplanes, cars, and so much more.
Just about every industry uses steel tubing one way or another. It's useful for transporting liquids and gases. The tubes can be tiny, inside of your home, or giant pipes in a factory, or even massive like a municipal water system.
Stainless steel tubing is perfect for these tasks because it resists damage and corrosion. It's easy to keep sterile, and it lasts for decades. Steel tubing can carry water just as easily as a chemical like freon or a gas like nitrous.
However, steel tubing isn't just for transportation. The hollow center of the tube also makes it structurally strong without being too heavy. This is why steel tubing works well in fence posts or for bike racks. Larger steel tubes work well in building construction for the same reasons.
Stainless steel tubing is easy to sanitize and isn't porous, which makes it more useful than other types of tubing, like plastic or concrete. This versatile material is in high demand for a reason—steel tubing solves a lot of industrial and manufacturing problems.
What Types of Steel Tubing Are Available?
A typical metal company will specialize in just a few types of steel tubes, especially if they sell in bulk. However, there is a wide variety of steel tubes you might need for your projects.
There are three primary shapes: round, rectangular, and square. All three of these shapes can be either welded or seamless. Once you have the shape, there are finishing options to consider as well, such as galvanizing or adding threads on the end.
Bushwick Metals offers a dozen different types of bulk steel tubing, including multiple shapes made with multiple steel grade options. There are hot rolled and cold rolled tubing options, as well as extruded tubing.
The Bushwick Metals product range includes:
Square Mechanical Tubing
Rectangular Mechanical Tubing
Structural Steel Square Tubing
Structural Steel Rectangular Tubing
Round Mechanic Tubing
Standard Pipe
Light Wall Pipe
Fence Pipe and Tube
Galvanized Awning Pipe and Tube
All of these options are available in the size and quantity you need when you need them. We have custom options and on-site treatments, as well as standard sizes and finishes.
What's the Difference Between Pipe and Tube?
The primary difference between pipe and tube is that pipes carry something. Both tubes and pipes are hollow in the center, but a pipe can't leak at all. It has to be entirely sealable.
Pipes are a specific type of tube. They're usually round rather than square or rectangular, and they're graded according to what they carry. Gas lines and water lines have different needs.
Tubes on the other hand, often serve as structural support and don't need to carry anything. They can be rectangular or squared off to fit into a space better, and they don't need to be as sealable.
Sometimes, a pipe or another kind of tube works well for the same job. Fence posts are a good example of this. The type of fence you're building impacts the type of tube you'll need to complete the project. If you are looking for pipes, we supply bulk steel pipes as well.
Why Should You Buy Steel Tubes in Bulk?
If you're working on projects where you need a large quantity of steel tubing, it's a no-brainer to order in bulk. However, if you tend to run smaller operations or buy your materials a bit at a time, you should consider buying in bulk instead.
Consistency is important for most construction and industrial jobs. If your tubing isn't all the same size, you can run into expensive problems quickly. Buying all the steel tubes for one project at the same time can cut down on these problems.
Next-Day Delivery
Picking the right metal company to supply your bulk steel tubing is important. Getting the right materials on time and in the right quantity is important to keep your projects running smoothly.
Next-day delivery on bulk tubing orders might seem too good to be true, but Bushwick Metals guarantees it for:
New York
New Jersey
Connecticut
Delaware
Pennsylvania
Massachusetts
Rhode Island
Maryland
Vermont
New Hampshire
Maine
We understand that you have deadlines to meet. With multiple locations and cutting-edge technology, we can get you the steel tubing you need quickly without sacrificing quality.
Before you order your steel tubing, we can help you figure out exactly how much you need. We have placement drawing and takeoff services available to help calculate the perfect amount of bulk steel for your project.
Get Bulk Steel Tubing From the Experts
Steel tubing may not be the first thing you notice, but it's an important part of our lives. No matter what your steel needs are, we have the highest quality materials ready and waiting.
The next time you need bulk steel tubing, let Bushwick Metals take care of you. Request a quote today and we'll get you the perfect steel materials for your project, on time and delivered safely.