Bulk Steel Pipe Supply At Bushwick Metals
July 29, 2021 in
Blog
/
Steel Tubing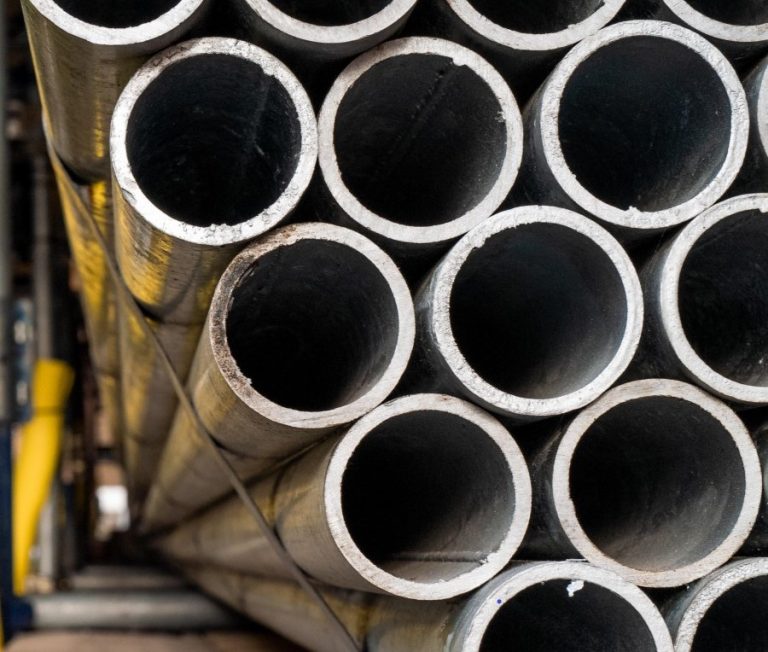 Steel pipe is one of the most widely used materials in manufacturing, infrastructure and construction. A metal pipe is primarily used to transport liquid or gas, usually underground. The demand for these materials is increasing at a faster rate than the industry overall. So, why is demand increasing, and where can you get these materials? Let's take a look.
What is Steel Pipe?
Steel pipe is a pipe of varying size and shape. It is used throughout manufacturing and construction to transport liquid or gas, typically oil, gas, and water. In household applications, refrigerators use metal pipes in their cooling systems. In the manufacturing sector, steel pipes of various sizes form handrails, bike racks and bollards.
Raw steel produced in foundries makes steel pipe. Raw steel may need additional elements to achieve the exact desirable composition. This molten metal is then poured into a mold to form an ingot or run through a continuous casting machine to produce blooms, billets and slabs. Slabs and billets, then make piping.
Pipe from Steel Skelp
Slabs are heated to 2,200 degrees F, and a scale forms on the surface of the slab. The scale is removed with a scale breaker and high-pressure cleaning. After the scale is removed and the slab is cleaned, the slab is rolled into narrow, thin strips of steel called skelp.
Skelp is then unwound from its spools, heated and then put through grooved rollers to bend the edges of the skelp upwards. The edges are inevitably bent to meet each other, forming a cylinder or pipe.
Seamless Pipe from Billets
Billets, long square pieces of continuous steel, are used to make seamless piping, which is better for some applications than piping that has a weld line. Billets are heated until they are white-hot, then rolled until they form a solid cylinder. A piercer then punctures a hollow center according to manufacturing specifications. The billet is then crafted, through milling operations, to conform to design specifications.
Steel Pipe Uses
Seamless and non-seamless steel pipe is found in many traditional building and construction applications. Often called steel tubes, steel pipe is used to provide additional structural integrity and strength through a process called piling.
Piling happens when tubes are driven into the substrate before a foundation is laid. Piling provides added stability for taller structures or when the substrate is unstable.
Metal piping is also used to make scaffolding poles to create access to reach areas for workers. Scaffolding poles are constructed by linking steel pipes in a cage-like pattern that workers can climb on to safely work off elevated platforms.
The Advantages of Bushwick Metals
Bushwick Metals is the highest quality purveyor of bulk steel pipe and steel supply along the east coast. Bushwick has many convenient locations in Connecticut, New York, New Jersey and Delaware. They even offer next day shipping to:
New York
New Jersey
Connecticut
Delaware
Pennsylvania
Massachusetts
Rhode Island
Maryland
Vermont
New Hampshire
Maine
Bushwick stands by their promise of next-day delivery 100%. Bushwick uses modern cutting-edge industry technology, software and fabrication methods to effectively produce and deliver your bulk steel when you need it.
Bushwick not only supplies the best bulk steel pipe and other steel and metal products on the east coast, but they also take customer service satisfaction and custom order expediency seriously. You are Bushwick's priority, and they want you to know it.
Bushwick addresses all customer questions and concerns by employing end-to-end supply chain solutions and expedient customer service turnaround times. Bushwick customer services include material and product estimates, custom steel orders, storage in their state of the art and efficient warehouses and logistical delivery and ordering systems to get materials out when you need them.
Bushwick also provides metal and bulk steel pipe in almost any quantity. They have fifty trucks making deliveries each day, and with those numbers, they can get you what you need when you need it.
Ordering bulk steel pipe is an effortless process. The Bushwick sales team works in conjunction with the logistics team to expedite orders for next-day delivery. Bushwick knows how important it is to get orders out in a timely process, and they take their dedication to order fulfillment seriously.
Additional Bushwick Services
Bushwick offers steel takeoffs and placement drawings as well. Takeoff uses industry software to calculate the amount of material needed for a project and its costs. This data is acquired by formulating scale drawings and project designs. This data is used to calculate the amount and type of steel pipe and other materials needed. Takeoff data is also used for placement drawings that predict and output a final material schedule for the quantity of material a project demands.
The experience, knowledge and skills that Bushwick has at their disposal make them the foremost source of information and advice for any project. They guide the size, type, and optional processing of any steel pipe needed for a project. Bushwick is more than happy to reach out to their manufacturing partners to custom fabricated steel pipe in single and bulk orders, and their warehouses offer material storage until the product is needed.
Types of Bulk Steel Pipe
Bushwick Metals has a massive supply of bulk metal pipes to meet all of your construction and development needs. They have:
Square Mechanical Tubing
Square and Rectangular Mechanical Tubing: available in A500-B, A500-C and A513
Rectangular Mechanical Tubing
Structural Steel Square Tubing
Structural Steel Rectangular Tubing
Round Mechanic Tubing
Light Wall Pipe: welded, black, plain end
Standard Pipe: uncoated, coated, and galvanized
Double Extra Strong Pipe: Plain end
Fence Pipe and Tube – Hot Dipped Galvanized
Fence Pipe and Tube – SS Galvanized
Galvanized Awning Tube and Pipe
And more!
Start Your Bushwick Experience Today
Each of their steel pipes and tubing is available exactly when you need them. Bushwick uses modern manufacturing methodologies, logistical and delivery solutions to quickly and efficiently deliver any of their steel pipes. Go with a company you can trust. Contact Bushwick today at 855-446-8735 or email [email protected].