8 Uses For Flat Bars
October 4, 2021 in
Blog
/
Steel Bars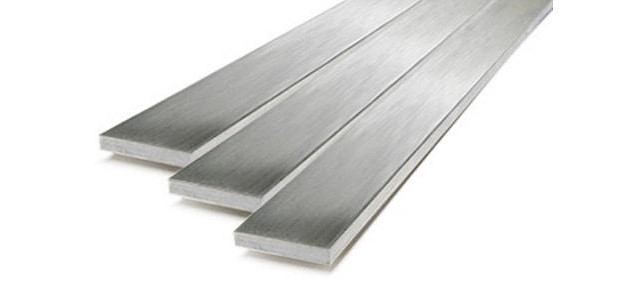 Flat bars are arguably the glue holding various components of our modern industrial world together. They are cost-effective to produce, recyclable, and remarkably versatile. Flat bars are also the cornerstone of the construction industry, owing to their low carbon content and highly functional strength. This blog presents eight primary uses for flat bars today.
What Is a Flat Bar?
Flat bars are long rectangular-shaped metal bars commonly utilized in several structural and architectural applications. They are basic building support materials used to support ladder hangers, ductwork, overhead doors, gate latches, among other functions. Flat bars are available in various materials, including aluminum, stainless steel or hot rolled, and more. Owing to their flat and sleek structure, flat bars can be easily cut and molded into the style and design you want your frame to be.
Top 8 Uses of Flat Bars
Frame constructions
Undeniably, flat bars make up massive parts of building frames. Steel flat bars specifically are easy to cut, drilled, and welded, making them the first choice in a range of frame construction and other applications. Flat bars can be prefabricated at the factory stage into the desired shape, meaning a more significant part of work can be done before materials reach the construction site, thereby cutting costs and overall building time.
Improvements and additions
Flat bars are not only used during building stages. They are also an integral part of the construction process that reinforces the existing structures. Flat bars are essential for ensuring a structure remains safe for domestic, commercial, and industrial use. Flat bars can be easily cut and formed to fit, replace and support the materials already in place. They can also be used to reinforce and replace existing materials that have been damaged or those that have degraded over time due to wear and tear. Mild steel is quite reworkable even once already used, thus allowing for easy reinforcement of parts of the structure in severe need of an overhaul.
Industrial artwork
Flat bars are the natural choice for industrial artists and artisans working on large-scale industrial projects such as statues. They are malleable and workable, thus ideal for several art forms, décor, and industrial art pieces. High-quality steel flat bars can be utilized in just about anything from sculptures to modern shelving units. Steel sections can go through additional manufacturing processes that add a smoother finish and outer layering. This ensures the pieces of art get a cleaner, sharper appearance and shinier and reflective surfaces.
Renewable energy
Steel flat bars are undeniably one of the prime materials for the energy industry. It is a recyclable material that boosts sustainability efforts in several renewable energy processes. Flat bars are also used as a foundation in water tower structures and as concrete reinforcing bars for foundations in turbines, generators, and water gates.
Home appliances
Flat bars form integral parts of myriads of home appliances, from latches, overhead doors, and heaters to refrigerators and chest freezers. They are also used in washing machines, extractor hoods, microwaves, and other everyday items. Mild steel flat bars offer unmatched versatility and strength that guarantee the safety of the appliances and reliability. The flat bars used in home appliances are given robust coatings and surface treatments to boost their functionality and durability.
Construction industry
The construction industry is arguably one of the most common industries where steel bars are mostly utilized. Flat bars can function in the same manner as hollow steel bars. They may also be fitted into several types of constructional installations in combination with hollow bars. Steel flat bars offer a high level of versatility that allows cutting to preferred dimensions, sizes, and varying lengths.
The following are some of the typical applications of flat bars in the construction industry:
Steel parking construction works: Flat steel bars used as constructional frames in steel parking projects provide an additional layer of durability and lightweight support. They also provide a high level of illumination in the parking area that helps drivers navigate safely in the event they find themselves driving in low visibility.
Drilling and ductwork: During construction, flat bars are also used in areas like welding or drilling when a frame needs to be given some form of shape. They are also used as a basic building support material to support braces for ductwork areas.
Mainstream industrial works
Construction projects vary widely in scope. However, any large project requires high-quality materials to guarantee its integrity. The right construction materials should be durable and hard-wearing to survive all levels of abuse and extreme environments. Flat bars are a natural choice that gives your industrial project the strength to protect from damages. In addition to its strength and malleability, this metal is also highly flexible. This means industrialists will take less time to cut, drill and operate. They also ease the process of bolting and riveting.
Fabrication works
Mild steel flat bars are a versatile product commonly used in the fabrication industry. It boasts a flat surface and square edge, making it an ideal building support material. Notably, the Grade 300 Flat Bar is most commonly used in fabrication works requiring higher structural integrity.
Contact Bushwick Metals for High-Quality Flat Bars and Other Steel Products
Are you looking for flat bars and other steel products? Well, Bushwick Metals offers an extensive list of steel products for an array of projects. Bushwick Metals is best known for its vast inventory of premium carbon steel structural materials for various applications. As the Northeast's leading wholesale steel distributor, we have been supplying superior quality steel flat bars and fulfilling orders for businesses working within the construction, automobile, and many other industries for over three decades now.
Whether you specialize in home appliances, construction, renewable energy, industrial artwork, frame construction, or any other project requiring versatile and robust steel materials, you can count on us to offer custom solutions for your specific projects. We have a proven track record providing high-quality products for all our customers and are committed to assisting you with your steel needs now. Our knowledgeable and experienced experts are always ready to help. Contact us today to learn more.