Type N Roof Deck At Bushwick Metals
January 14, 2022 in
Blog
/
Decking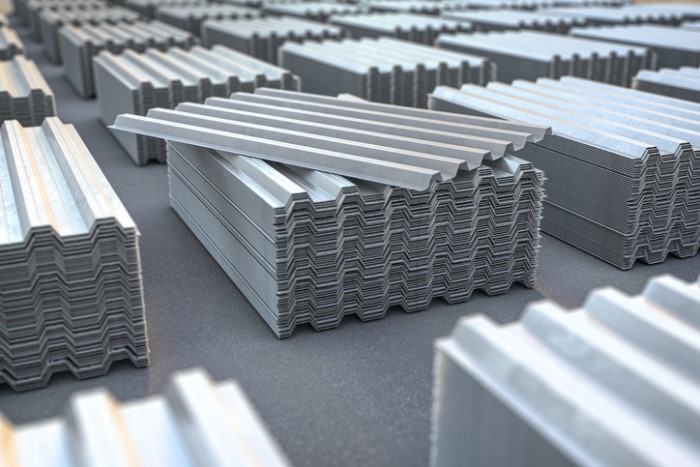 The type N roof deck is a versatile roofing component that's a popular choice for roofs where a deeper profile than usual is required. If you're looking for a deck that gives you a greater span without a commensurate increase in metal thickness, the N roof deck could work really well.
Here we take a look at what a type N roof deck is, as well as the benefits it can bring to a range of roofing applications. We also consider the ways in which an N roof deck can be used, as well as describe how Bushwick Metals can create standard and customized N roof decks that are manufactured to your exact requirements.
What is the N roof deck?
Steel decking is the material that sits between the joists and trusses. It's used to create the framing for a roof, usually separating the roofing material from the insulation layers. In comparison to other types of deck material, the N roof deck has a deeper, 3″ profile. This provides a greater span than other roof deck options.
What are the benefits of a Type N roof deck?
Due to its deeper profile, the Type N roof deck has several advantages over other roof deck choices. Some of these are detailed below.
Strength
Type N roof deck offers superior strength. This makes it ideal for roofing larger spaces, taller buildings, or buildings that are likely to be subjected to extreme loads due to their location, purpose, or other variables.
Increased Span
The design of an N roof deck allows it to be used where an increased span is required. The N roof deck can work across wider spaces successfully, providing a high level of performance in situations where other roof deck choices would fall short of the mark.
No Need for Purlins
Purlins (the horizontal beams that are traditionally used to support a roof structure) aren't required when N roof deck is deployed.
Increased Architectural Freedom
Using a Type N roof deck enables greater flexibility and innovation in building design. Particularly useful for large-scale or novel projects, this type of roof deck allows ambitious projects to be successfully completed, without compromising on safety or structural integrity.
Versatile Roofing Solution
Using a strong, wide-span roofing solution is a good option for a wide range of different projects. It opens up different design options and also allows greater choice in roofing materials, dimensions and shape.
How can Type N Roof Deck be used?
One of the major advantages of the N roof deck is the wide range of applications that it can be used for. Not only is it a good option for commercial and industrial buildings, but it's also ideal for a range of residential settings. N roof deck can be used as part of new-build development or deployed as part of a refurbishment or reconstruction project.
Bushwick Metals can provide a custom N roof deck solution that's geared to the needs of your project.
Turn to Bushwick Metals for Your Type N Roof Deck
When you use Bushwick Metals for your Type N Roof Deck, you're working with a seasoned team of professionals that have an excellent understanding of what's needed.
We offer N Roof Deck in a range of different configurations, depending on client requirements. Our straightforward, four-part process ensures that every client ends up with a Type N Roof Deck that's tailored to meet the needs of their project.
1. Consideration of Project Drawings
Our team will study the project drawings in-depth. This gives us a good understanding of what you need. We will also take the opportunity to check that your chosen specifications are likely to deliver the outcomes you're looking for.
2. Design Team Input
Before starting our fabrication, we submit your specifications to our design team. They create a design that's tailored to your specific requirements, ensuring that every aspect of the proposed fabrication can be completed to our usual high standards.
3. Fabrication
We turn the signed-off designs over to our fabrication team, who creates the N Roof Deck you need. Once the items are completed, we can transport them to your site, ready for use in your roof's construction.
4. Site Instructions
Each batch of N Roof Deck is accompanied by comprehensive instructions for fitting. This ensures that the construction process is completed both safely and correctly. It also reduces labor time (and therefore cost), as we provide the information needed to make construction as simple as possible.
Choose from a Range of Options
Bushwick Metals offers a selection of options on our N Roof Deck range. For example, we can fabricate a roofing deck in a selection of different gauges (16 through to 22) as well as offer a selection of different finishes. If you need the N Roof Deck to be used outside, we can coat it with G-90 – galvanized zinc. Other coatings include G-60 galvanized zinc and a primer coating, which will then need to be finished elsewhere.
If you have additional requirements for your N Roof Deck, such as the need for integral acoustic or thermal insulation, let the team at Bushwick Metals know and we'll be happy to present some solutions for your consideration.
Bushwick Metals is an established design and fabrication plant that can supply customers across the eastern US with premium Type N Roof Deck.
We put quality and customer satisfaction at the heart of what we do, recognizing the pivotal role that roof deck plays in the final function, structure, and integrity of your project. When you use Bushwick Metals, you're working with a trusted partner that aims to provide the high-grade roofing solutions you need to make your project a success.
Get in touch to find out more about our Type N Roof Deck design and fabrication process.