The Top 10 Steel Suppliers In PA
February 14, 2022 in
Steel Supply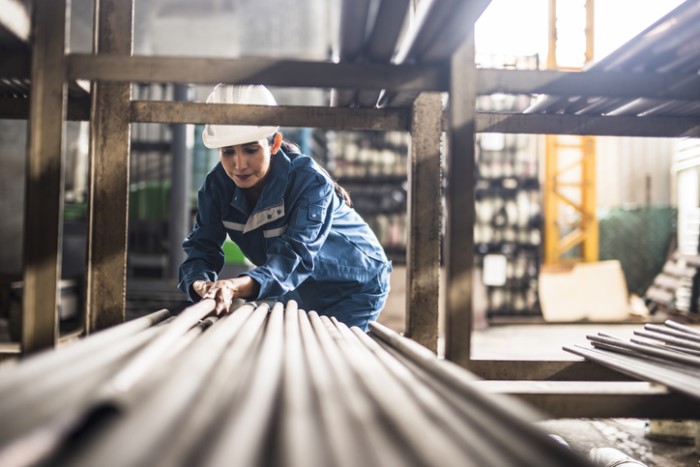 The oldest steel manufacturer in Pennsylvania was founded in 1857. Over the years, steel manufacturing, along with a number of other industries, has grown massively. Today, with so many options available, it is important to know not just where to buy steel from but that you're buying it from the best.
This article is going to break down the top 10 steel suppliers in PA, so keep reading to find out more.
There are numerous steel supply companies in PA with a lot of experience, but Bushwick's 200 years of operations put them a step above the rest. As the leading wholesale distributor of steel in the Northeast, you know that the products and services are all top quality.
The main goal at Bushwick is to help customers grow, control expenses, and succeed. This is done by providing a wide variety of steel parts such as plates, channels, bars, and beams.
Bushwick also offers value-added services, including saw cutting, plate processing, and tee splitting/straightening. With next-day delivery available across not just PA, but the entire East of the United States, Bushwick is the number one choice of steel supplier available.
Phone: 855-446-8735, Fax: 302-328-0595, Email: [email protected]
A supplier of pipe, plate, rod, tube, flat/square bar, sheet metal, roofing/siding, fasteners, and steel hardware.
They can provide both stainless and galvanized steel, as well as aluminum.
Beyond this, Steel and Metal Service Center have a wide range of hardware available. This includes tools for cutting, sanding, grinding, and finishing.
They also have a location in Delaware.
Steel & Metal Service Center, 1584 Buntin Street, Pottsville, PA 17901
Phone: 570-391-0141, Fax: 570-399-5180, Email: [email protected]
With over 100 stores across the US, Canada, and the UK, this is the world's largest supplier of small quantity metal orders. The types of steel available include alloy steel, stainless steel, tool steel, galvanized steel, cold-rolled steel, and hot-rolled steel.
On top of these, they also produce brass, bronze, copper, and aluminum. All different shapes and sizes are available. Fabrication processes such as shearing, cutting, and punching are carried out in-house. They provide next-day delivery, and you are able to call or email to get a quote or visit a warehouse in person and browse their stock.
Metal Supermarkets Pittsburgh 505 Thomson Park Drive, 16066
Phone: 412-219-2470, Fax: 412-219-2471
AGAR is one of the newest steel suppliers in PA, beginning in a backyard in the early 1990s. One man making clothesline poles to add to the family income has grown to a team of over 20 employees in 25 years. AGAR stocks both steel and aluminum in a variety of standard forms such as sheets, angles, tubes, and plates. They stand out in their services, however.
They provide fabrication not just in-house but on-site. They are able to manufacture and install platforms, gates, ladders, mezzanines, railings, and more. They also have a team of AWS-certified welders available to help with a wide range of projects.
AGAR Welding Service and Steel Supply, 93 Firehouse Road, Walnut Bottom, PA 17266
Phone: 717-532-1000, Email: [email protected]
One thing that is notable about Metal Worx Express is its focus on customer service. With over 25 years in business, they excel in operations, sales, and purchasing skills.
They are able to supply a number of metals, including stainless steel, carbon steel, alloy steel, bronze, copper, nickel, and cobalt alloys. These are available in various material grades, shapes, sizes, and specs. Value-added services are also available.
Metal Worx Express, 109 Pike Road, Unit G, Huntingdon Valley, PA 19006
Phone: 267-401-1670, Fax: 215-953-1670, Email: [email protected]
With a number of warehouses located across PA, as well as several surrounding states, Pennsylvania Steel Company provides excellent coverage across the whole of Pennsylvania.
The company has grown significantly since it was founded in 1972, which speaks to the quality of the products and services provided. Various types of steel, as well as aluminum, are available as bars, sheets, tubing, and other forms. Products are manufactured to the highest industry standards and fabricated in-house, with next-day delivery available.
Pennsylvania Steel Company, Inc., 1139 Lehigh Avenue, Whitehall, PA 18052
Phone: 610-432-4541, Fax: 610-432-3781, Email: [email protected]
Glenshaw has been in the business for over 50 years. Products include steel, stainless steel, and aluminum.
One of their main focuses is handrails and railings. They are happy to take on projects as small as just one railing and are prepared to take on any custom job. Glenshaw also offers a number of paint colors for their railings as well as railing/fencing repair services. They also have a focus on metal supply, metal fabrication, and landscape edging.
Glenshaw Steel Supply, 1120 William Flynn Hwy, Glenshaw, PA 15116
Phone: 412-486-0885, Fax: 412-486-1035
Nivert Metal Supply was founded by Al Nivert in 1936 and is now run by his nephew Louis. Two of Louis' children have also joined the team, meaning the business has seen 75 years of experience under three generations of their family.
They supply various types of steel, as well as other metals such as aluminum and brass. These are available in a number of forms, such as plates, angles, beams, bars, and pipes. They have a weekly delivery schedule that services PA as well as some parts of NY.
Nivert Metal Supply, Inc., 1100 Marshwood Road, Throop, PA 18512
Phone: 570-667-2399, Toll Free: 800-982-4348, Fax: 570-347-5390, Email: [email protected]
One of the main focuses of Orken Steel is on home building. They offer numerous services for this, such as computer-controlled hole drilling, beams cut-to-length, stock and custom plates, and ICC-approved adjustable columns.
They have been in business for more than a century, so it's safe to say they know what they're doing. A number of steel parts are readily available, including beams, angles, plates, and rebar, with the option of job site delivery or customer pick up.
Orkin Steel Supply, Inc., 375 Cherry Street, Slatington, PA 18080
Phone: 610-767-3845, Toll Free: 800-322-9618, Email: [email protected]
McKnight was founded in 1954 and moved in 1993 to a location with more space to keep up with the growth of the business. They specialize in the wholesale of different types of steel and aluminum.
Standard parts such as beams, channels, bars, and rods are all available in various sizes. Delivery is available via their own fleet of trucks within a 120-mile radius of their location in Warminster and with other trusted carriers for locations across the United States.
McKnight Steel and Tube Co., 85 Industrial Dr, Warminster, PA 18974
Phone: 215-396-9976, Fax: 215-396-9986, Email: [email protected]
Deciding Between Steel Suppliers in PA
The choice you make will depend on your needs. Ideally, you will be able to get everything covered by one supplier to help streamline your project. With so many steel suppliers in PA, choosing the right one is key.
Bushwick Metals are ready to help with whatever you need, so get in touch now by clicking here.