The Pros and Cons of Custom Roll Formed Decking
April 17, 2023 in
Decking
/
Rolled Steel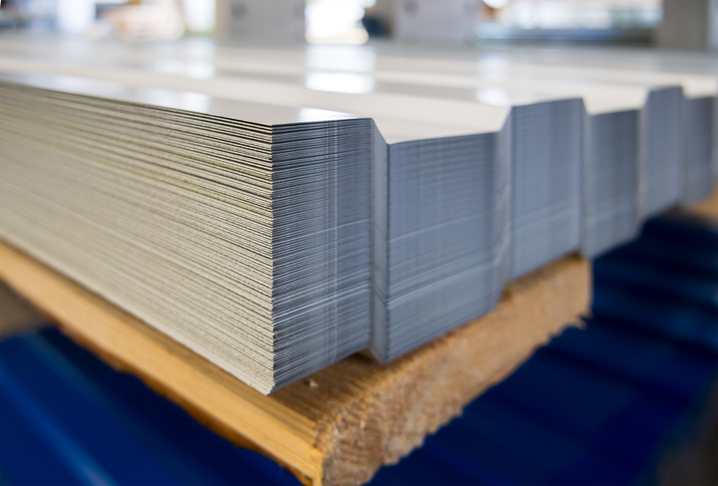 The Pros and Cons of Custom Roll Formed Decking
The U.S. steel industry saw a 21% increase in production value in 2021, and this figure only continues to rise as the steel demand becomes higher. Most of the steel produced is used in construction, as it is valued for its reliability and versatility.
In custom roll formed decking, steel creates a durable roof and floor construction for both commercial and residential buildings.
Formed Deck In Use
Metal decking is used in buildings to support the insulation in a roof or to support the weight of concrete flooring. It has the added benefit of acting as a permanent steel foundation for concrete slabs.
The strength of the form deck is dependent on the depth of the panel; the deeper the panel, the more strength it provides. Take panel depth into consideration when planning for the thickness of the concrete slab.
Why Use Metal Decking?
There are many benefits to using metal decking over other materials, such as wood.
Strength
Slabs with metal decking have a superior strength-to-weight ratio, which allows the entire slab to be more lightweight, meaning fewer materials are used.
Affordability
Using steel in construction will save you money. Building costs are lowered when less material is used in comparison with other options, and money is saved. With the durability of steel, maintenance costs are also lowered.
Durability
Buildings made from wood show wear and tear over time, whereas steel structures seem to have anti-aging properties. Standing up to the forces of nature and climate, steel requires very little maintenance. It is also resistant to pests, such as termites.
Ductility
Steel is a very ductile material, which allows it to bend more easily under stress. This makes it an excellent choice in terms of building materials in a location more prone to earthquakes.
Safety
Safety is not as much of a concern when it comes to metal construction. Steel decking, with its integrated edge protection, offers an immediate, safe platform on which to work.
Prefabrication
Quality control and the minimization of errors come with the ability to prefabricate structural steelwork. Cutting the material to specification prior to bringing it to the job site keeps the work running fast and smooth.
Sustainability
Steel is 100% recyclable, meaning that even as a building is in the demolition phase, the metal can be reused again as a building material or maybe in a completely different way.
As sustainability and efficiency continue to rise in interest and importance, the use of structural steel will become even more common. It is the perfect material to use in construction in a world that values dependable structures that can be built in a short amount of time.
Types of Steel
There are four general types of steel that comprise the larger structural steel category.
Carbon Steel
Carbon steel makes up approximately 90% of all steel production. There are three subtypes of carbon steel, which are low (containing about 0.3% carbon), medium (containing about 0.6% carbon), and high (containing about 1.5% carbon). Its appearance is dull and matte-like, but it is exceptionally strong.
Alloy Steel
Alloy steel is a mix of several different metals and tends to be cheaper and more resistant to corrosion than carbon steel.
Tool Steel
It might not be a surprise that tool steel gets its name because this type of metal is most often used to make tools, especially hammers. This steel is resistant to heat and scrapes and is super hard and durable.
Stainless Steel
We hear about this type of steel a lot in our everyday households, with its use in silverware and cookware. It is also used a lot in hospitals and for exterior cladding of buildings. Stainless steel is very shiny and contains 10% to 20% chromium, making it very resistant to corrosion and malleable.
Custom Roll Formed Decking Options
Manufacturers using steel roll forming machines are able to produce various types of floor deck according to your needs. The steel can be rolled into various thicknesses, whether painted or galvanized.
Type B Floor Deck
Type B deck is the most used structural metal decking in the industry due to its light weight, easy installation, low cost, and strength. Its wide rib provides an excellent surface for various roofing materials.
Composite Floor Deck
Composite floor deck is metal floor deck that has a pattern embossed at regular intervals on its flutes, which gives concrete the ability to bond to the metal as the concrete cures. This makes the entirety of the structure stronger than the metal or concrete would be on its own.
Form Decking Finishes
Steel deck material is usually finished as either galvanized or painted, and either finish is achievable with a roll former.
Galvanized
The coating of galvanized metal is very durable and does not need painting for structural purposes, but is often desired for aesthetic purposes.
Prime-Painted
A prime-painted surface is meant as provisional protection to protect the steel during the installation period. It is considered a temporary coating rather than a finished product.
A Custom Fit
A major benefit of ordering deck from a company with a steel roll forming machine is that you can have it cut to any specific length you might need for your construction projects. This customization also comes with faster turnaround times, helping to meet project deadlines with ease.
The ability to order this material with the exact size specifications needed for a project means the deck is delivered to you exactly how you want it, when you want it.
A Formed Decision
When looking for metal decking to suit your building needs, finding a reputable company that can provide a custom fit is a must. With years of experience and a strong inventory of superior materials, Bushwick Metals has you covered.
Reach out today for your custom roll formed decking needs.