Structural Steel Supply From Maine To Virginia
November 18, 2020 in
Blog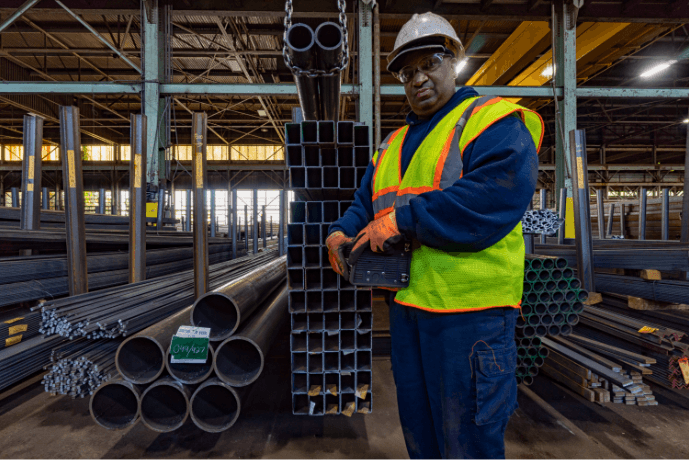 The East Coast of the USA is one of the busiest, most prosperous and populated parts of the planet. That means a lot of steel! Structural steel builds the world around us. It is ubiquitous in modern constructions, heavy industry, and many types of transportation. Wherever you are on the Eastern Seaboard, Bushwick Metals can supply you with the most appropriate and cost-effective solution for your structural steel needs.
Structural Steel Supply At Bushwick Metals
Structural steel has the high tensile strength needed for major constructions with little bowing. It can be developed neatly into pretty much any shape and is inherently fire resistant. The tallest structures in the world use structural steel, as do the world's longest bridges and heaviest rigs. 
When you need structural steel supply, choose Bushwick Metals. We have been in business in one form or another since 1829. Our 190 years of experience and service to our customers can be seen in everything we do, from finding the right solution for you to organizing logistics and deliveries. When you've been in business for nearly 200 years, you learn a thing or two about exceeding customer expectations.
We're service orientated and provide one of the deepest and widest ranges of products in the country. Our structural steels include angles, channels, joists, beams, bars, sheets and more. As well as off-the-shelf steels, we can source specialty products and offer some of the most robust ranges of structural steels you could find anywhere. With approximately 750,000 square feet of warehousing coupled with around-the-clock processing and loading, Bushwick Metals can meet the demands of customers that rely on prompt deliveries. 
Location Is Key
This leads us to the importance of location. While you can order a watch from halfway around the world and get it in a few days, structural steel tends to be more challenging to ship. Transport costs matter. The further you haul it, the more you'll pay. Finished products are nearly always delivered to the customer by truck. If your requirements are urgent, it pays to pick a company in your region.
If your project or construction is on a tight schedule, you need a regional company that isn't going to get held up in something going on halfway across the country. It's also best to avoid the shipping costs that go with thousand-mile routes, which may require special convoys and oversized loads. Distance adds to cost, but also, perhaps more importantly, risk. At Bushwick Metals, we don't expect you to take risks. We get our products to our customers.
If you need a product tomorrow, anywhere from Maine to Virginia, we can help. Less than a truckload is no problem. Our customers often ask us, "will you have a truck in the area?" With our size and warehouses in New Jersey, Connecticut, and New York, the answer is almost always "yes!"
We have five locations that can serve you from Maine to Virginia with on-time deliveries. They are all ready to help you and aim to exceed your requirements for structural steel supply. Our corporate headquarters is located in Shelton, Connecticut, not far from the interstate for quick access. This is mission control of the Bushwick family, where we co-ordinate the running of the business and ensure our quality control and customer service standards. In New York and New Jersey, our main Sales office is in Englewood, New Jersey, where we can process sales from anywhere in the region. We aim to be exceptionally responsive: our sales team works hand-in-hand with Bushwick's logistics team to ensure next-day delivery in most cases. 
Additionally, we have three further warehouses, where our products are processed and stored, and from where they are dispatched. Bushwick's Binghampton division is located in Binghampton, New York, Pennsylvania. Our Delaware Warehouse is located in New Castle, Delaware. AZCO Steel, which is part of our corporate family, as a division of Bushwick Metals, is in South Plainfield New Jersey. AZCO steel has been in business since 1947 and has around 1,000,000 square feet of warehouse space. 
Structural Steel Solutions
All of this means we don't merely sell structural steel; we provide structural steel supply solutions. We can manage inventory and supply-chain solutions, as well as offering responsive, often next day delivery. We warehouse, process, and store the steel you need. We'll co-ordinate logistics and transport to meet your needs. 
So whether you are up in Maine or down in Virginia, choose Bushwick Metals for your structural steel solutions. Give our helpful, friendly, and knowledgeable team a call today at 855-446-8735. We're looking forward to learning more about your unique business needs. You won't be disappointed with our services.