Steel Suppliers In The New York Area: Next Day Delivery Options
December 13, 2021 in
Blog
/
Steel Supply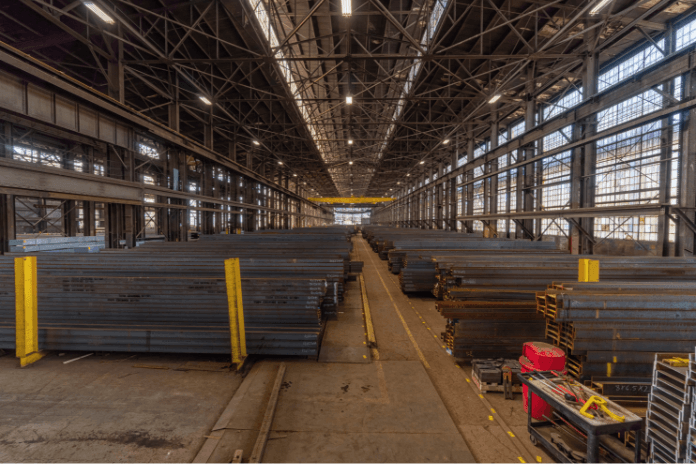 Steel is a great material that has enhanced strength and is greatly used in a variety of industries. It's easy to say that the wide usage of steel has revolutionized our construction and manufacturing processes. When you're looking for an ideal material to ensure your structures are durable and strong, there's no better alternative.
It is an alloy that constitutes iron and carbon, which aid in strengthening the foundation of the material and make it fracture-resistant, which makes it different from iron. Its unique chemical composition ensures that it doesn't react adversely to different elements and can withstand exposure to various elements for a prolonged period.
However, you'll be surprised to hear about how many different types you can find when it comes to steel. When contacting steel suppliers in NY, you need to be aware of the different kinds of steel available and how they can be utilized for your needs.
In the 1960s, only 500 million tons of steel were being utilized every year. Today, steel usage has increased to millions of tons being used yearly. When it comes to quality, you need the best, and you can only find that with experienced steel suppliers in NY.
Uses of Steel and Benefits
Presently, steel is widely used in buildings, tools, ships, infrastructure construction, cars, trains, electrical appliances, and even weapons. Depending on your requirements, you can find a steep type that works perfectly to cater to them.
Steel has become the primary choice of material over other materials like iron and aluminium. Buyers in NY looking for a reinforced material that can stand for years without being damaged will find their needs met with the right steel supplier.
Types of Steel
While many steel compounds and mixtures are available in the market, not all are common or widely used. When you're considering using steel for your next project, four common varieties tend to be popular with buyers in NY.
Carbon steel: In terms of looks, it is dull and has a matte-like finish. You can find three grades of carbon steel where the difference in these grades is the percentage of carbon present.
Low-grade carbon steel (approximately 0.3% carbon)
Medium-grade carbon steel (approximately 0.6% carbon)
High-grade carbon-steel (approximately 1.5% carbon)
It also has other alloys infused in the steel, which make it exceptionally strong. While this type of steel is not resistant to corrosion, it is widely used in the manufacturing of automotive components, knives, etc.
Alloy steel: Manufactured from a mixture of several metals like copper, nickel, and aluminium. Alloy steel is more affordable when compared to other types of steel and are highly resistant to corrosion. This type of steel is generally utilized for mechanics, ship components, and pipelines.
The alloy steel strength depends on the concentration of different alloys in the material and what kind of alloys are being used. Many buyers have specific requirements for alloy steel and steel suppliers; NY caters accordingly.
Stainless steel is the most commonly known type of steel but not the most widely used. It looks shinier than other types of steel, and the main alloy used in this is chromium. You can find stainless steel variants with up to 20% chromium.
The chromium present in the steel enables it to be corrosion resistant. It can be easily moulded into a variety of shapes as well due to the chromium. The level of manipulation and flexibility is higher in this steel variant than others, making it ideal to use in surgical equipment, silverware, home applications, and cladding for commercial projects.
For buyers in New York who are looking for the ideal supplier for all their steel needs, here is why Bushwick stands out:
Bushwick and Steel
When you're looking for one supplier to meet your needs pan-America, there is no better alternative to Bushwick Metals. Their extensive operations in the Midwest, Northeast and South make them your ideal partner for any steel operations.
With nearly 200 years of operation under its belt, Bushwick Metals has always strived for continual perfection and innovation in all its products. When you expect quality and strength at a reasonable price, Bushwick Metals is the only choice to opt for
Not only that, when you're on a time crunch in New York and need immediate next-day delivery for steel, expect your needs to be met immediately when you're working with Bushwick Metals. Besides New York, you can also find next-day delivery options in ten more states available.
Whether you're in the steel scaffolding business or looking for ornamental metal, you can expect that only the highest quality-assured steel will be provided for your business.
You don't need to be concerned about the time-consuming process when ordering from Bushwick Metals is a straightforward process that requires no hassles. All the steel that Bushwick Metals supply meets minimum regulations regarding strength, durability, and safety.
Different Bushwick Products Available
Besides steel, there are various products and services you can find at your disposal when choosing to work with Bushwick Metals. Known as one of the premium steel suppliers throughout New York, you will find the following products available:
Expanded Metal & Grating
Heavy Structural Products
Rebar
Steel Channels
Steel Plates and Sheets
Steel Tubing and Piping
You can also find various services available like:
Shearing and Bending
Tee Splitting and Straightening
Custom Roll Formed Floor and Roof Deck
If you're looking for more services or products, simply contact the customer support team to see if your requirements can be accommodated. Whether you require warehouse storage for your materials or bigger sizes when it comes to various products, Bushwick Metals can handle all of them.
Choose Bushwick Metals For Your Steel Requirements and More
When you're looking for an experienced and trustworthy supplier for steel, choose to work with Bushwick Metals. With their wide selection of products and services, you won't have any room to complain.
If you're unsure about your order requirements, get in touch with the customer support team to ensure your needs are fulfilled from start to end. Bushwick Metals has a complete inventory of all grades of carbon steel available in different shapes and sizes.
For any project materials requirement, get in touch at 855-446-8735 or reach out to us here.