Steel Pipe Showdown: A53 Vs A500
December 17, 2021 in
Blog
/
Steel Tubing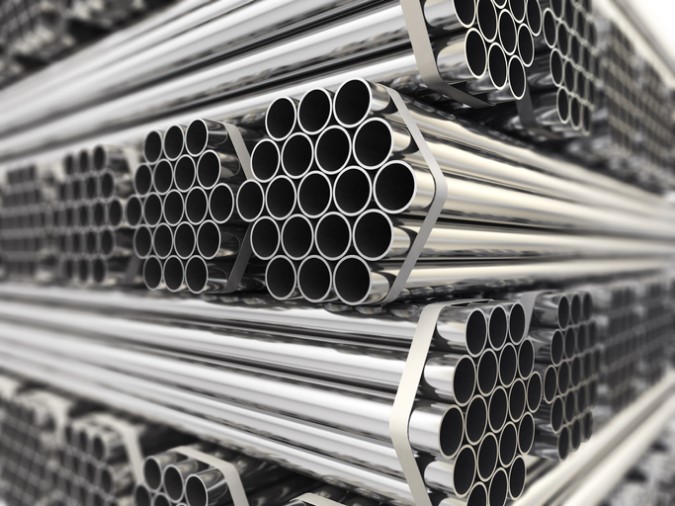 Pipes are an integral part of the construction industry. Not only do pipes carry water, gas, and oil to where they need to be in your industrial plant, but piping is also what carries away wastes. But the question is, between A53 and A500 steel pipe, which one should you choose?
Read on to learn the various elements of A53 Vs A500 and find out how they measure up.
A53 vs. A500 Steel Pipes: What Are they?
Both ASTM A53 and ASTM A500 specification steel pipes serve similar functions. Yet, there are significant differences that you must understand before making final purchase decisions. Don't be surprised to find that some contractors may not understand these differences!
The ASTM A53 standard defines steel pipes intended for use in high-pressure gas or water transportation systems. It is one of the most important standards for industry standards related to steel. The A53 specification covers seamless and welded steel pipes, line pipes for oil and gas pipelines, and partially-processed tubing. It's also ideal for electric resistance-welded subassemblies or pipeline joints.
The ASTM A500 specification covers black carbon steel mechanical tubing. It's primarily used in industrial plant construction. It also includes a galvanized coating applied before shipment from factory stock.
Even though these pipes are made of steel, there are many differences between them. A53 pipes are thicker and stronger than A500 steel pipes. They can be used for high-pressure applications, while A500 steel pipes are applicable where pressure doesn't exceed one hundred pounds per square inch. When choosing which pipe to use, consider the maximum expected pressure and the environmental conditions that the pipe may encounter.
What's the Difference in Quality and Strength?
A differentiating factor between A53 and A500 pipes is their yield strength. This refers to how much each metal can stretch before it breaks under pressure.
ASTM A510's minimum yield strength is 60,000 PSI, while ASTM A53 has 45,000 PSI. You'll note that both materials have similar tensile properties at around 100,000 PSI.
A53 steel pipes are more flexible than A510, but it's important to remember that A53 has lower yield strength.
Is There a Difference in Designation?
Another characteristic of ASTM A500 and A53 is their designation. It refers to how they were manufactured before being stamped with the standard for anyone building pipelines.
The A500 uses an open-hearth furnace, while the A53 leaves out this step in its manufacturing process. This makes the production of A53 faster and less expensive compared to the A500 carbon steel normalized pipe. There isn't much of a difference between A53 vs A500 uses when it comes to their end-use applications. They're both used in pipes, pressure vessels, tanks, and boilers.
Characteristics and Applications of A500 Steel Pipes
ASTM A 500 Grade A is designed for mechanical strength rather than weldability. It's more likely to break under stress instead of bending or buckling at high temperatures.
A500 steel pipes are used for structural purposes such as heavy-duty equipment and piping in the petrochemical and oil refinery industries. Yet, A53 is more commonly found than A500. The A510 offers a better balance between strength and weldability compared to ASTM A 500 Grade B.
Characteristics and Applications of A53 Steel Pipes  
ASTM A 53 carbon steel pipe grade C/ASTM A 530 Grade C has higher yield strength than its counterpart. You can bend or twist this material much more before it breaks. It's perfect for your scaffolding needs!
A53 steel pipe grade C is used for mechanical purposes. Yet, its strength properties make it a perfect fit for heavy-duty equipment and piping in the oil industry.
Chemical composition
The chemical composition of steel pipes affects the mechanical properties of the pipe, such as tensile and yield strength. The chemical composition of A500 steel pipe is equal to 0.28% C, 0.07% Mn, 0.07% Si, and 0.6-0.8% Ni.
The chemical composition of A53 steel pipe is typically equal to 0.22% C, 0.09% Mn, 0.09% Si, and 0.6-0.8% Ni. The A500 tolerances are more potent than the A53 pipe tolerances. They're used in applications that need to be solid and durable against corrosion-related problems like seawater or sulphuric acid.
The chemical composition of the A500 steel pipe also allows it to be used in more applications than the A53 steel pipe. It has higher tensile strength, yielding strength, and corrosion resistance than the A53 steel pipe does. For these reasons, A500 steel pipes are usually more expensive than A53 steel pipes.
Weight
The weight of a pipe is an essential factor to consider when choosing your steel pipe. Weight determines how much that pipe costs per foot or meter. Steel pipe prices are determined by the cost of the steel and the length.
The difference in weight can impact the cost of the pipe and how it is used. For example, if you need a section of underwater pipe, you may need one made from higher-density steel that's welded together.
On the other, you may need one that's light and flexible enough to bend and be transported to a different location easily. The weight of a pipe will also determine how much it costs to ship.
Strength
A53 pipes are thinner than A500 steel pipes. This can be an advantage because they are easier to cut, weld, and fit.
A53 pipes are made with a higher percentage of manganese, which makes them softer than A500 steel pipes. It also makes them more flexible and better at withstanding pressure. This can be a disadvantage because they can collapse under pressure.
A500 steel pipes are much stronger than A53 steel pipes. The high percentage of nickel in A500 steel pipes gives them much greater strength. The downside is that they are more difficult to weld and cut than A53 steel pipes.
Talk to the Best A53 vs A500 Steel Pipe Supplier Today
Are you in manufacturing, construction, or fabrication? Do you deal with gas and oil and want durable and quality A53 vs A500 steel pipes? At Bushwick Metals, we make the best and most innovative steel pipes that can meet all your needs. For years, we've worked with different industries to develop suitable steel pipes.
Whether you need steel pipes in bulk or need some credit financing for your next delivery, we've got you covered. Request for a quote or contact us today to get the best steel pipes.