Steel Floor Plate Sizes At Bushwick Metals
May 9, 2022 in
Blog
/
Steel Plates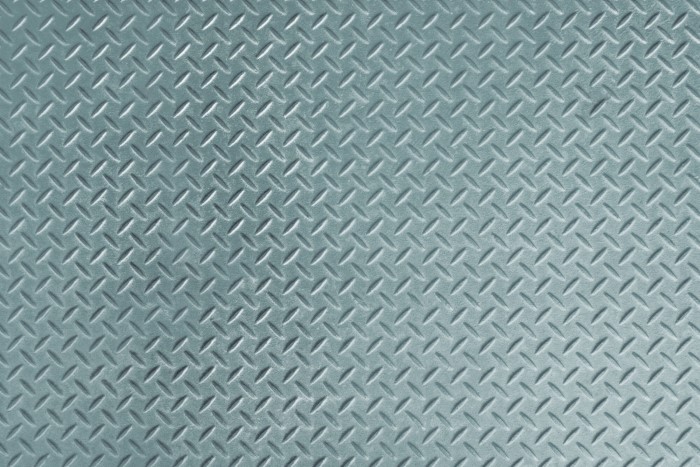 Steel isn't just a super-strong construction material. It's also essential for maintaining the social responsibility and sustainability of any given project. For one thing, steel is 100% recyclable, meaning that it has a low environmental impact. Additionally, steel is great for the world economy. The steel industry supports 96 million jobs across the globe.
Because of these factors, many businesses are investing in projects that use more steel than before. Steel sheet floor plates, for example, are a popular way for businesses across industries to create a safer, greener workspace. But how do you use steel sheet floor plates? And what are the most common steel floor plate sizes? Read on for a complete guide to sizing and usage that will help you select the best option for your purposes.
What Are Steel Sheet Floor Plates?
As suggested by the name, floor plates are flat sheets of steel that can be placed on the ground. However, they are not any kind of ordinary flooring.
Floor plates are a special kind of flooring that is primarily used to prevent slippage. They come with a raised tread pattern on the top to prevent workers, or even products, from slipping and tumbling to the ground. Because of this, floor plates are most common in industries where workers face slippery conditions. They are also prevalent in the transportation and storage of goods that could easily slide across the floor.
How Do Steel Sheet Floor Plates Work?
Steel floor plates have a raised surface that works by increasing the traction between the floor and whatever hits its surface. This could include a package, a crate, or even a worker's boot. This increase in traction is the equivalent of "pumping the breaks" on a sudden movement. It slows down the contact between an item and the ground, thus creating a sense of stability. As a result, steel sheet floor plates create slip-resistant floors.
You can find steel floor plates with a variety of different tread patterns. Checker plates resemble a checkers board, while diamond plates look like a collection of quadrilaterals. However, both types of patterns work equally well when it comes to enjoying the benefits of floor plates.
What Size Steel Floor Plate Is Best for Worker Safety?
This is a natural question, as many businesses purchase steel floor plates with worker safety in mind. In the United States, trips and falls account for 15% of all accidental deaths and 25% of injury claims. Because of this, slip-resistant floors are key to earning your workers' trust and guaranteeing their safety.
But, what size steel floor plate is best for worker safety? The answer to this question depends a lot on your workspace and the type of slippage that could happen there. If you are purchasing a floor plate for an industrial kitchen floor, you may consider a smaller floor plate.
Our smallest steel floor place spans 48 x 96 inches. You can purchase one of these to protect workers in a cooking area. However, if you are worried about slippage in a larger space, such as a construction trailer, you may consider a larger size. Our largest steel floor plate is 60 x 240 inches.
Which Size Steel Plate Has the Best Price for the Quality?
When researching workplace flooring, it's normal to worry about costs. Many business owners wonder about floor plate sizing in terms of price/quality ratio. Which floor plate size is the least expensive one?
The reality is that steel plate flooring can cut a lot of costs for your business. However, there is no one "cheap" size that will keep overall prices low. The reason for this you must size your floor plates according to your workplace.
This is particularly true for logistics and supply chain companies. Most of these businesses do everything in their power to keep shipments safe. However, harsh weather conditions and slippery roads can take their toll on transported goods. When crates or packages slip and fall, a company's products can be damaged. This can significantly reduce the amount of profit that your business gains from a single shipment.
Steel floor plates prevent this slippage and can prevent a business from losing money on damaged goods. However, this only works if you buy the right size plates for your needs. In order to determine which size floor plate is best for you, measure the interior of your freight. Then, order floor plates that will cover the interior. This will eventually help your business save money.
What Steel Floor Plate Sizes Are Available?
Steel floor plates come in a variety of cuts and sizes. However, not every supplier can provide the exact floor plates that you require. Luckily, Bushwick Metals provides a wide variety of steel floor plates in several different sizes. In fact, our inventory includes ten different floor plate sizes with a range of dimensions.
Our selection includes the following floor plate sizes (in inches):
48 x 144 with 1/8 thickness
48 x 240 with 1/8 thickness
60 x 120 with 1/8 thickness
60 x 240 with 1/8 thickness
48 x 96 with 1/8 thickness
48 x 120 with 1/8 thickness
48 x 96 with 1/4 thickness
60 x 240 with 3/8 thickness
48 x 240 with 1/2 thickness
60 x 240 with 1/2 thickness
Whether you need a steel floor plate to line the floor of your truck or to up the safety of your industrial kitchen, we have floor plates that will fit your purposes.
Order Your Steel Floor Plates Today
Do you need to increase the safety of your workplace? Or, are you hoping to reduce the slippage of your crate shipments? Either way, Bushwick Metals has the best floor plates for you.
Get in touch with us and place an order. We offer a wide variety of steel floor plate sizes for all of your slip-resistant flooring needs. The best part is that we offer a next-day delivery service. As a result, you can get your steel floor plates practically as soon as you order them.