Steel Deck Roofing: Superior Protection and Longevity
September 18, 2023 in
Blog
/
Decking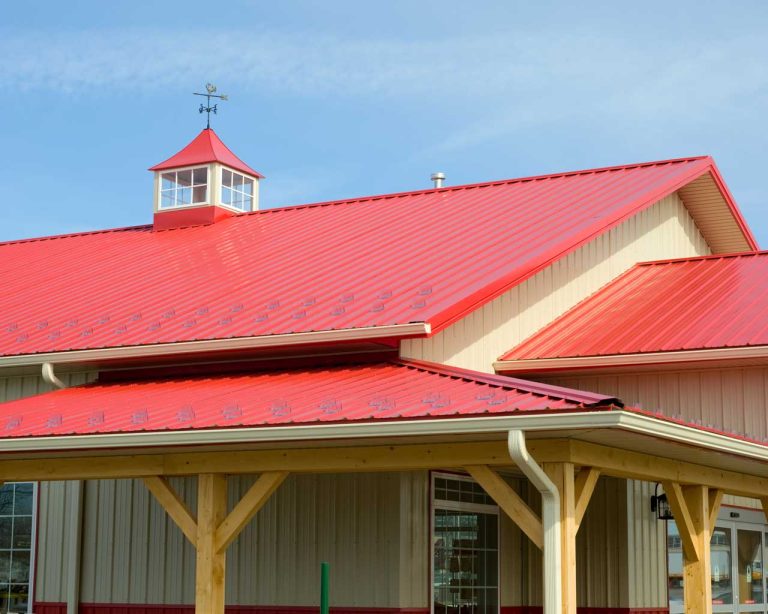 Durability and longevity are critical factors when evaluating roofing options. Steel deck roofing offers both unmatched protection and longevity. Choosing steel deck roofing gives your property extra protection from weathering and harsh weather or environmental conditions. If you are facing a roofing project for new construction, repairs, or re-roofing, you are facing some important decisions about roofing materials. Choosing the right materials for your budget and project is imperative for success.
This blog post discusses steel deck roofing, its many benefits, and the types of steel deck roofing.
Steel Deck Roofing
Steel deck roofing has a significant investment impact when it comes to roofing options for commercial buildings. A steel deck is a critical structural building component with structural steel designed to maximize the deck's strength-to-weight ratio, securing maximum protection and usefulness. It is made from corrugated metal sheeting supported by steel beams or joists and is ideal for buildings of various sizes and uses.
Benefits of Steel Deck Roofing
Steel deck roofing provides many benefits. In addition to cost-effectiveness and ease of use, steel decking is a durable, low-maintenance, energy-efficient choice.
More benefits of using steel deck roofing include:
Longevity
Metal roof decking can last from 40 – 70 years or more. A lot longer than the 20-year lifespan of asphalt shingles. Various factors may influence the longevity of metal roof decking, for example, the quality of the roofing material, installation techniques, proper maintenance, or exposure to extreme environmental conditions. High-quality metal roof decking will likely last over 50 years when installed correctly and maintained. The material is resistant to rust, rot, and corrosion, adding to the roof's longevity.
Energy Efficiency
Energy efficient benefits of metal roof decking include reflective aspects that direct solar radiation away from the building. The reflective aspect of the roof material helps reduce heat transfer into the building, leading to improved energy efficiency and lower cooling costs during warmer months. Metal roof decking can be used with inoculation materials, enhancing thermal performance and helping keep interior temperatures consistent. Temperature regulation reduces strain on heating and cooling systems, adding to energy efficiency.
Durability
One reason steel roof decking has a long lifespan is due to the material's durability. Steel is a hard substance with a high strength-to-weight ratio, maximizing the structural integrity of a building. Steel roof decking is resistant to corrosion and extreme weather conditions, including hail, snow, and ice.
Safety
In addition to being resistant to damage from severe weather conditions, a structure using steel roof decking provides a safe place to weather the storm. Also, metal roof decks will not be engulfed by flames, spark, or ignite in the event of a fire, making them a fire-safe choice.
Types of Steel Deck Roofing
Type B Deck
B Deck is the most common metal roof decking because of its perfect balance of strength and economy. It is typically used to support a built-up roof system. Type B deck is a corrugated steel sheet with fluted ridges that is best for spans under ten feet. B Deck offers the best balance of strength and cost efficiency. B Deck is lightweight, easy to install, and often used for other applications such as trash gates, canopies, and awnings.
Type A Deck
Type A Deck is designed for thin, economical insulation materials, making it a cost-effective solution for insulation support. It is often used for re-roofing or repair projects instead of new construction. It has the lowest strength-to-weight ratio.
Type N Deck
N Deck is twice as deep as B Deck and, therefore, the better choice for spans greater than ten feet. It is a 3″ deep, long panel that spans longer distances. Type N Deck is lightweight, easy to install, and an excellent choice for commercial or industrial projects.
Installation Process
Optimizing your choice to purchase steel deck roofing includes ensuring the installation process is completed correctly with careful attention to detail.
Here are a few tips to help you carry out the installation of your steel deck roofing panels.
Planning: detailed planning and coordination before the project begins will help ensure that the project team is aligned to carry out the installation process and meet timelines and other project requirements.

Experienced contractors: For the best results, hire vetted contractors or subcontractors with qualified experience installing steel deck roofing according to manufacturer guidelines.

Quality materials: high-quality steel deck roofing materials from reputable suppliers will assure you that the materials will last and meet the required building codes and specifications.

Proper fastening: ensure your installation team uses proper fastening for steel deck panels. Following manufacturer guidelines for fastening panels to the underlying structure is crucial.

Weather: Installation processes are impacted by weather conditions; it is important to monitor the weather conditions closely when planning a roofing installation.

Regular inspections: throughout the installation process, regular inspections will ensure installation quality and adherence to building codes and regulations. Inspections can alert you to potential issues, allowing you to address problems and quickly move on with your timeline.

Communication: clear communication between roofing contractors, suppliers, and property management is vital for success.

Documentation: documentation of the project plan, progress, milestones, building codes, inspections, and communication will help you as you navigate your roofing project.
Intsel Steel East
Intsel Steel East is a trusted source of steel deck roofing materials. We pride ourselves on providing high-quality steel decking solutions and exceptional customer service. Our products are designed to meet the needs of each unique project through customized solutions offering long-lasting performance and structural integrity. Our steel deck roofing is manufactured with the highest quality materials, allowing us to provide exceptional quality with every purchase.
We prioritize a customer-centric approach, striving for clear communication and collaboration throughout your project. We want you to complete your project based on your needs and timelines successfully. Contact us today to discuss your steel deck roofing needs! You can visit us online or call 855-446-8735.