Rebar Suppliers In PA: Next Day Delivery
July 23, 2021 in
Blog
/
Rebar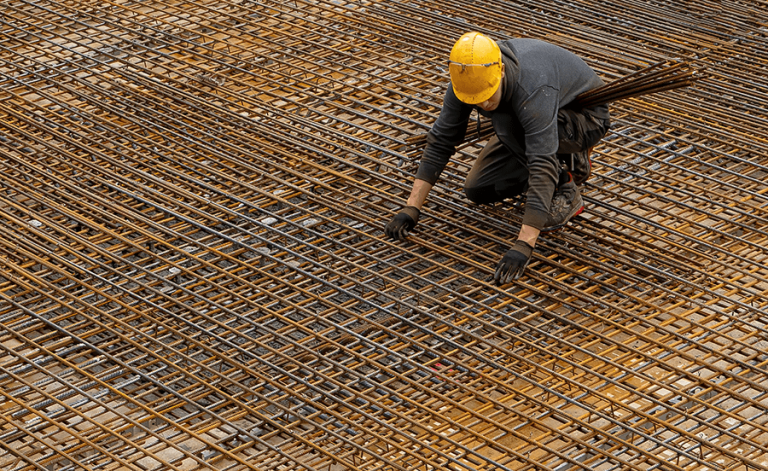 Rebar is one of the most robust and versatile pieces of building material available. They are a crucial component of many building development procedures. Construction development speeds up, and efficiency increases due to the unique properties of rebar, which combine the sheer strength and adaptability of steel and the compression strength and usability of concrete.
Demand for reinforcing bars is forecasted to increase over the next decade because of its significant benefits in concrete applications. For all of these needs and more, contact one of the preeminent rebar suppliers in PA. Contact Bushwick Metals.
What is Rebar?
A rebar, or reinforcing bar, is a steel bar often used in concrete installation. A rebar mesh goes in the form then concrete is poured over the mesh. This process reinforces the concrete, making it exponentially stronger and decreasing the rate at which it deteriorates.
This rebar mesh is a better choice than similar products, like steel wire or fiberglass, because the reinforcing bar itself adds structural support to concrete. Reinforcing bar comes in a variety of sizes and materials. Carbon steel is most often used in concrete because it is the lowest cost option and provides sufficient strength.
For builders in Pennsylvania looking for reinforcing bar for their next project, Bushwick Metals is the leading reinforcing bar supplier in the state and here is why:
The Benefits of Bushwick
Bushwick has many locations up and down the east coast to meet any reinforcing bar needs and requirements. They even offer next-day delivery to the entire state of Pennsylvania. Bushwick accomplishes this and more by utilizing modern technology and fabrication techniques to efficiently and effectively produce and deliver reinforcing bars at an incredible rate.
Not only does Bushwick produce exceptional reinforcing bar and other steel and metal products on the eastern seaboard, but they also take great pride in their custom metal fabrication skills and their commitment to quality and customer satisfaction.
Bushwick solves all customer queries by its provision of end-to-end supply chain solutions and customer services. Their customer services include order estimates, custom steel processing, warehouse storage and logistical management for convenient deliveries when their customers need them.
Bushwick provides building supplies at almost any quantity, even in smaller shipments. They can supply less than a truckload at a time, and with a distribution office located in Richboro, Bushwick fulfills any orders made within Pennsylvania promptly and efficiently.
Ordering reinforcing bars from Bushwick is a straightforward and painless process. Their sales team works closely with logistics to get orders placed and on track for next-day delivery. They know how imperative it is to get orders out on time, and they take their commitments to order fulfillment very seriously.
Other Bushwick Services
Bushwick also offers steel takeoffs. These takeoffs utilize industry-standard software to calculate material usage and costs based on scale drawings and designs of a project. Using this information, Bushwick calculates the quantity and reinforcing bar type needed for a given project. For ensured accuracy, a takeoff needs measurements of the footings and walls that require reinforcing bars. With this takeoff data, Bushwick also develops placement drawings to manifest a final schedule of the reinforcing bar quantity of a project.
Their extensive skills, knowledge and expertise also make them a terrific source of information and guidance for navigating a new project, no matter the size and scope of the project or its stage of development. Bushwick provides advice on the size, type and processing of reinforcing bars to suit any project. Their manufacturing partners provide reinforcing bars in bulk orders to meet any requirements, and they can process and store a rebar supply until a known quantity is needed.
Rebar Sizes and Materials
Bushwick holds a complete inventory of threaded, slab, and beam bolsters and chairs in a massive range of rebar sizes and tolerances. Their rebar is perfect for concrete construction in foundations, buildings, roadways and bridges.
Their high-strength low-alloy (HSLA) structural steel reinforcing bar is corrosion-resistant for long-lasting life and structural stability. Bushwick's Billet-Intermediate Grade-Deformed Ultimate Tensile strength rebar rates at 70,000/90,000lbs. These reinforcing bars have a minimum yield of 40,000lbs at grade 40 and grade 60 with only a quarter-inch thickness. This type of bar is round, not deformed, and the threading adds additional surface contact for more cohesion and structural integrity in any application.
No matter what rebar looks good for a project, all of the reinforcing bar from Bushwick exceeds the minimum yield strength of a product grade, meeting regulation requirements. Bushwick offers reinforcing bar in many bar sizes, including:
¼"
⅜"
½"
⅝"
¾"
⅞"
1"
1¼"
1⅞"
Bushwick is more than happy to reach out to their manufacturing partners if a project requires a larger or custom-sized reinforcing bar.
Slab and beam bolsters from Bushwick are the quintessential component when pouring concrete slabs to improve structural integrity and increase the longevity of a structure. Their beam bolsters support the lower area of a steel beam, and their slab bolsters add tensile strength by supporting the beam bolsters and concrete slab itself.
Bushwick, as part of their forward-thinking all-encompassing building solutions, also offers rebar chairs. These chairs fasten to and accurately position rebar, in place of hard to use and slow to install steel wire. Ultimately, chairs save labor and material costs over the total development period of a project.
Choose Bushwick Metals for Rebar and More
Bushwick Metals is an experienced and knowledgeable supplier of a robust selection of metal construction products. They offer exemplary customer service, unique supply chain solutions, valuable industry insights and prudent project advice.
They offer next-day delivery in Pennsylvania, provide warehouse storage for your materials and back all this with almost 200 years in the industry. 
Bushwick has the materials for any project, and their customer service keeps their clients raving and coming back. Go with a trusted rebar supplier. Contact Bushwick today at 855-446-8735 or email [email protected].