Our Industrial Metal Processing Services
March 7, 2022 in
Blog
/
Value-Added Services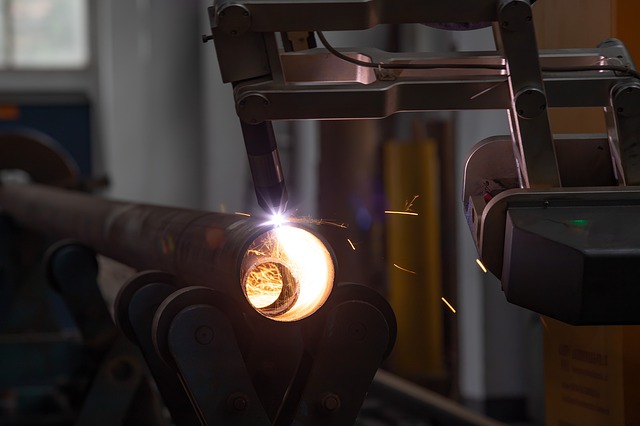 Our range of industrial metal processing services is extensive. Our team focuses on all the ways we can help our clients maximize their resources. Our goal is to help you add value to everything you do, which is easier when you have a full array of industrial metal processing services to rely on. If it has to do with metal, we're here to help you get it done efficiently. And we focus on quality to ensure that the result is well-made and durable. 
Here's a sample of our industrial metal processing services. If you don't see what you need, reach out and let us know what you're looking for. We can help you complete your project.
Saw Cutting
We can saw cut single pieces or bundles of metal quickly and accurately. Our saw cutting industrial metal processing is enhanced by powerful blades, operated by skilled technicians with experience and expertise. We have a fully automated Voortman VB1050 giving us the capability of cutting flange size beams up to 44″. We can also make bundle cuts from 24″ to 44″.  We focus on uniform cutting for an even, accurate result, meeting all your specifications. 
Shearing
At Bushwick Metals, we take pride in providing products that meet our clients' exact specifications. Shearing is an important part of industrial metal processing that ensures products are perfectly made. We can shear to exact sizes whether we are working with plates or sheets.
With equipment and training focused on perfect cuts every time, we can help you no matter what type of metal or the capacity involved. From small runs to a full-capacity project, you can expect consistently great results.
Bending & Cambering
Bending is a valuable industrial metal processing method. We can bend plates up to 1" thick by 16 feet long. We can create V-shapes, U-shapes, or channels, all suited to your objectives and specifications. Let us know what you need, and we'll show you how our industrial metal processing services suit your project. 
We're also here to help with cambering, with the capability to camber steel beams up to 40" high. Our cambering processing services are ideal for your structural steel needs. Ask for this when you want the bend you need without compromising the integrity of the beam. 
Plasma and Flame Cutting
Plasma and flame cutting offer extreme precision. At Bushwick Metals, we can cut plates up to 6" thick with our plasma and flame cutting equipment.
Not sure if you need plasma or flame cutting? Flame cutting is generally ideal for thick metals, while plasma cutting is better for thinner materials. We can help narrow down the options to find the processing service that best suits your product. 
Steel Plate Processing
Bushwick Metal's passion for steel plate processing has been evident for decades. We consistently push the boundaries of industrial steel processing using the most up-to-date equipment.
Multi-Functional Abilities
Combining the functions for steel plate processing into one machine has saved money and sped up turnaround times for clients. They can work with plates up to 3″ thick and with a minimum thickness of 0.25″.
Tee Splitting and Straightening
Rotary shear splitting is an integral part of our industrial metal processing offering. We create steel tees by splitting beams, whether you need them straightened via our cambering machine, left arced, or further curved to a tighter radius. Whatever your need for tee splitting and straightening, we have the flexibility to meet your precise dimensions and specifications. 
Shape and Plate Rolling
We can roll many different shapes to whatever radius you desire. With plate and sheet rolling, we can create arcs, segments, cylinders, or conical shapes. These are cost-effective industrial plate processing services that let you run your business. We will bend metal according to your needs, maintaining structural stability. You can also expect us to roll metal efficiently and effectively using our variety of specialized machines.  
Rebar Supply
If you want rebar, you'll be pleased to hear that we are one of the top rebar supply companies serving the east coast. Our team will help you keep concrete solid and safe for years to come thanks to our well-made, carefully tested rebar. We can cut and shape rebar to whatever dimensions you require for your project, whether you are looking for a small run or a full-capacity customization. 
Using Our Industrial Metal Processing Services
At Bushwick Metals, we're more than a metal processing company. While our industrial metal processing is a huge part of what we do, it's one step in our full slate of services designed to keep your company competitive and successful in today's fast-paced world.
We're an experienced team with the skills, qualifications, and training to provide your business with metal products of all types. If you need a small part delivered ASAP, a rush order on a full set of components, or more information to help you make decisions, get in touch and get it done.
Our knowledgeable team is looking forward to learning what industrial metal processing services you require and how we can help your company. Use our simple online form to request a quote, give us a call at 855-446-8735, or email us at [email protected].