NJ Rebar Suppliers For North and South Jersey
November 30, 2020 in
Blog
/
Rebar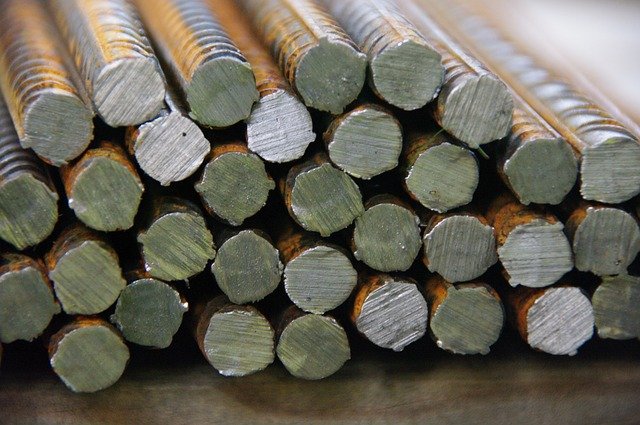 Rebars are almost miraculous, even if we do say so ourselves. By combining the tensile strength and versatility of steel with the compression strength and ease of use of concrete, we can build, bigger, higher, stronger, and faster. Walls, slabs, dams, and building structures are all possible because of rebars.
Rebar, short for reinforcing bar, is used as either a steel bar or mesh around which concrete is poured. The result is an incredibly strong combination that can withstand a huge amount of downward pressure and tension that neither material could on its own. If you're in New Jersey and want to buy rebars, Bushwick Metals is the best place to go. Here are some reasons why.
The Bushwick Advantage
With our two locations in New Jersey, we can supply all of your rebar requirements. At Bushwick Metals, we use modern equipment that means we never break a sweat when it comes to rebar fabrication. 
We do more than the sell top-quality rebars and other structural steels, though. Our customers know they can count on us to make sure that every bend and shape is fabricated to order. We provide complete solutions to help our customers succeed, providing end-to-end supply chain solutions. Our services include estimating quantities, processing steel to suit your project, warehousing, and managing logistics for timely deliveries. 
Bushwick Metals is happy to provide smaller quantities of rebars. We can supply less than a truck. And with about 50 trucks rolling each day from our three New Jersey locations, we can fulfill your rebar order promptly. You'll find that we are exceptionally responsive. Our sales team works hand-in-hand with our logistics team to provide on-time and often next day deliveries. 
Our two New Jersey locations offer robust warehousing. We buy in bulk, so you don't have to. And we effectively provide an end-to-end supply chain service. You can order the quantity you want and have parts of your order delivered when you want them. 
Bushwick's Takeoff, Placement Drawing, And Estimate services
We can provide steel 'takeoffs.' These will calculate materials estimates using industry-standard software to calibrate and scale drawings and designs. With this information, we calculate the quantities of rebar and type of rebars you'll need for your project. Remember that the take-off needs to calculate all the footings as well as the walls. We can also produce Placement Drawings from the takeoff to create a final schedule of the rebar quantities you'll need. 
Our extensive experience and knowledge will provide you with advice on the size, type, and processing required, if any, which best suits your project. Our manufacturing partners can provide you with rebars in bulk to meet your requirements. We can then process and warehouse them until you need to call off quantities on the order. 
Bushwick Metals' Rebar Range
We stock a complete inventory of threaded rebar, Slab and Beam Bolsters, and Chairs in our two New Jersey Warehouses. Our new Billet-Intermediate Grade-Deformed Ultimate Tensile strength Rebars are rated to 70,000/90,000 lbs. They have a minimum yield point of 40,000lbs at grade 40 and grade 60 at only a ¼ of an inch. These bars are plain round, not deformed. The threading adds additional surface contact with the concrete for more cohesion and strength within the structure. 
All of our rebars exceed the grade's minimum yield strength as required by regulations. We offer rebar in nominal diameters of ¼ inch, thru to 1 inch, and onto 2.26 inch. But we're happy to talk to our manufacturing partners to supply specialized or larger sizes if required. 
Bushwick Metals also supplies a range of rebars for concrete slabs, including slab and beam bolsters. Slab Bolsters are used to provide support for reinforcement when pouring concrete slabs. The slab bolster provides tensile strength to the slab by supporting the beam bolsters. These support the lower beam steel that goes along the slab. 
As part of our complete solution, we also supply rebar chairs, used to fasten and accurately position rebars. Get in touch with us for help with estimates.  
Why Choose Bushwick Metals In New Jersey
We can't think of any reason why you wouldn't. Sure, there are cheaper suppliers, but all they'll do is deliver rebar. Only Bushwick Metals offers the end-to-end service, supply chain solutions, industry insights, and strategic guidance to help our customers succeed. 
We cover the 'cost to own' by holding your inventory for you. You don't have to worry about making space for tons of stock laying around a busy site. We understand that inventory needs care, so our warehouses are set up to perform to the highest standards. 
Bushwick Metals almost 200 years of industry experience enables us to understand customer needs, assist with inventory planning, and offer the sort of advice that keeps our customers coming back. Contact us today at our New Jersey sales office Toll-Free 855-446-8735 or email [email protected].