Want Next-Day Rebar Delivery? Choose Bushwick Metals
March 14, 2022 in
Blog
/
Rebar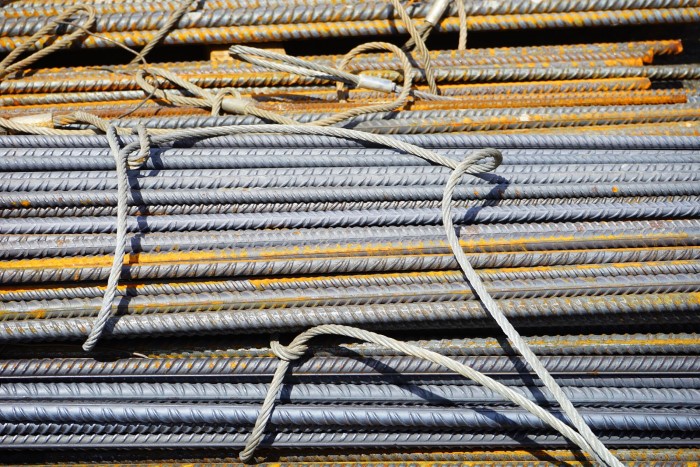 Projections show that the global steel rebar market will reach a value of $263.72 billion by 2028. Rebar is widely used in construction projects all over the world for several reasons. Implementing it in your project could help massively improve the final results.
To find out how rebar can help your project, and how to organize a next-day rebar delivery, keep reading.
What Is Rebar?
Rebar is a type of metal bar often used in concrete construction. The purpose of rebar is to make the concrete stronger and more stable, giving what is known as reinforced concrete.
When enough force is applied to concrete, it can be prone to cracking and crumbling. Rebar within the concrete goes a long way towards preventing this, making structures more durable and longer-lasting.
Even when reinforced concrete does crack, the rebar will control the extent of said cracks, and provide more overall structural strength. There are other options to achieve similar results such as steel wires or reinforcing fiberglass, but rebar produces far better results, so is usually the better choice.
Rebar can be found in several materials such as:
Carbon Steel
Glass fiber reinforced polymer
Zinc galvanized steel
Stainless steel
Epoxy coated steel
Steel is by far the most popular choice for rebar. This isn't just due to its durability and effectiveness, but it also has a very similar thermal expansion coefficient to concrete, so it will elongate in high temperatures at the same rate as concrete. Almost any concrete construction work can make use of rebar. Concrete structures like buildings and multi-story car parks need to be as structurally stable as possible. Driveways are also often built with rebar. The weight of vehicles on concrete that is not reinforced could easily cause cracks with time.
The Advantages of Using Rebar
The main advantage of using rebar in concrete is to provide improved strength and resistance to cracking. There are also a number of other advantages that may be relevant depending on your application.
Thinner Concrete
As rebar makes concrete stronger, the amount of concrete used for a project can be reduced. If you are building a driveway, for example, you would need to use enough concrete to support the weight of any vehicles that would be parked there. With the inclusion of rebar, less concrete is needed to provide the same amount of strength. In some instances, this space-saving can make quite a difference.
Longevity
The improved structural integrity of reinforced steel naturally means that it will last longer. General wear and tear will have a significantly lower effect. The steel used for rebar is often put through certain chemical processes to change the chemical structure of the steel. Annealing, for example, is typically used to increase the ductility and tensile strength of the rebar. Reinforced concrete made using annealed rebar will be able to support heavier loads for longer periods.
Cost-Effectiveness
Longevity and durability result in improved cost-effectiveness. This is because much less maintenance is required. Cracks in a concrete structure are not something that can be ignored, so when concrete holds up better, fewer repairs are needed, and you can save on time and costs.
Different Grades
There are many grades of rebar available. As standard Bushwick stocks rebar with bar sizes ranging from 1/4 Rd. to 1 1/4 Rb. This is equal to 0.25″ to 1.41″ in diameter. We keep the following grades of rebar in stock at all times:
A-36 – Tensile strength = 58 KSI, yield strength = 36 KSI
M1020 – Tensile strength = 63 KSI, yield strength = 35 KSI, Brinell hardness = 126
A588 – more varied than the others: up to 4″ thick gives 70 KSI of tensile strength and 50 KSI of yield strength. Between 4″ and 5″ gives 65 KSI tensile strength and 46 KSI yield strength. Between 5″ and 8″ gives 63 KSI tensile strength and 42 ksi yield strength.
If none of these are ideal, we also offer machining services to fit your exact specifications.
Benefits of Bushwick
Bushwick always keeps a wide range of materials in stock. Beyond rebar, the other metal products we offer include:
Angles
Bars
Beams
Tubing & piping
Steel sheets
Steel plates
Channels
Decking
Grating
More
We try to keep the most common items in our regular stock, but standard items won't always fit your needs.
If you have a specific job that requires any custom parts, we are more than capable of machining anything you need. We have multiple locations, and can provide next-day delivery to the following states:
New York
New Jersey
Connecticut
Delaware
Pennsylvania
Massachusetts
Rhode Island
Maryland
Vermont
New Hampshire
Maine
In any construction product efficiency is key. Any downtime is bad for the project, so being able to get the parts you need, when you need them, is invaluable.
Depending on the work you are doing, you might not have the space on-site to store all the materials you need. This is no problem, as you can just let us know what you need, and when you need it. We'll make sure it gets out to you in time, and your work won't be brought to a halt.
Bushwick can also offer value-added services, enabling us to meet even the most stringent requirements of our customers. Services like saw cutting, plate shearing, and plate processing allow us to produce precise custom parts, exactly as you need them.
Organizing Your Rebar Delivery
Bushwick Metals is a leading steel distributor, offering next-day service across the entire Northeast, Midwest, and South of the US. With over a hundred years of experience, it is safe to say we know what we're doing when it comes to manufacturing and supplying steel products.
If you need to organize a rebar delivery or have any other questions about our products and services, click here to contact us today. We're always happy to help.