Galvanized Steel Angles: Our Sizes And Capabilities
May 16, 2022 in
Blog
/
Galvanized Steel
/
Steel Angles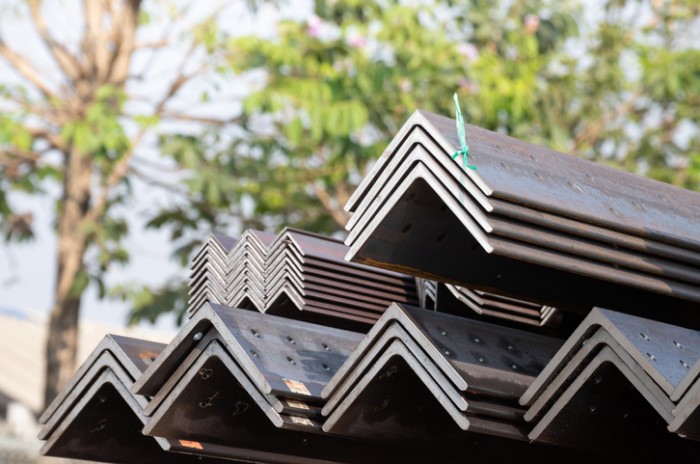 Did you know that corrosion costs the U.S economy over $300 billion each year? Environmental interaction with different types of metal can lead to gradual degradation of construction projects. To save yourself the headache of rusted parts, consider using galvanized steel. The galvanization process can protect steel from the elements, making it more durable and reliable.
Bushwick Metals offers the most comprehensive inventory of steel products! Take a look at our stock of galvanized steel angles and how we can help your business grow.
What Are Galvanized Steel Angles?
Galvanization is a process of coating metals, like steel, with a protective zinc layer. At Bushwick, we achieve this by immersing our structural-steel angles in a zinc bath. The zinc coating prevents the metal from rusting out, making it perfect for outdoor projects.
ASTM A123 Specification
We're able to galvanize all our hot-rolled structural steel angles. Our products meet the requirements of the A123 Specification according to the American Society for Testing and Materials. The A123 Specification regulates the coating thickness, finish, and adherence conditions.
The Benefits of Galvanization
Our hot-dipped steel angles are especially useful in outdoor construction. Exposure to rain, wind, and snow will no longer be a problem because the zinc coating prevents rust. Other benefits of galvanized steel angles include:
Increased durability
Low cost
Higher savings
High reliability
Low maintenance
There are several methods to galvanize steel, including:
Hot-dipped
Galvannealing
Pre-galvanizing
Electrogalvanizing
At Bushwick Metals, we use the hot-dip method. This approach requires the structural-steel metal to take a quick bath in a tub of molten zinc. Hot-dipped galvanized metal is a speedy, simple process, which means faster delivery times for our clients!
Our Extensive Steel Inventory
Our extended steel angle inventory means you get exactly what you need when you need it. We offer galvanized steel angles ranging from 1 1/4" x 1 1/4" x 1/8" to 8" x 6 1/2" x 1/2". Each size is available in 20-foot and 40-foot lengths.
Available 1 1/4″ angles:
Size: 1 1/4 x 1 1/4 x 1/8in, Weight: 1.08lb
Size: 1 1/2 x 1 1/2 x 3/16in, Weight: 1.930lb
Size: 1 1/2 x 1 1/2 x 1/8in, Weight: 1.32lb
Available 2″ to 2 1/2″ angles:
Size: 2 x 2 x 1/4in, Weight: 3.41lb
Size: 2 x 2 x 3/16in, Weight: 2.61lb
Size: 2 x 2 x 1/8in, Weight: 1.77lb
Size: 2 1/2 x 2 1/2 x 1/4in, Weight: 4.39lb
Size: 3 1/2 x 3 1/2 x 5/16in, Weight: 7.780lb
Available 3″ angles:
Size: 3 x 3 x 3/8in, Weight: 7.780lb
Size: 3 x 3 x 1/4in, Weight: 5.24lb
Available 4″ angles:
Size: 4 x 3 x 3/8in, Weight: 9.18lb
Size: 4 x 3 x 5/16in, Weight: 7.780lb
Size: 4 x 3 x 1/4in, Weight: 6.26lb
Size: 4 x 4 x 1/2in, Weight: 13.82lb
Size: 4 x 4 x 3/8in, Weight: 10.58lb
Size: 4 x 4 x 5/16in, Weight: 8.86lb
Size: 4 x 4 x 1/4in, Weight: 7.13lb
Size: 4 x 3 1/2 x 3/8in, Weight: 9.83lb
Size: 4 x 3 1/2 x 5/16in, Weight: 8.32lb
Size: 4 x 3 1/2 x 1/4in, Weight: 6.70lb
Available 5″ to 6″ angles:
Size: 5 x 5 x 3/8in, Weight: 13.28lb
Size: 5 x 5 x 5/16in, Weight: 11.12lb
Size: 5 x 3 1/2 x 3/8in, Weight: 11.23lb
Size: 5 x 3 1/2 x 5/16in, Weight: 9.400lb
Size: 6 x 3 1/2 x 5/16in, Weight: 10.58lb
With 25 angle sizes, our structural steel angle stock is one of the biggest! And we maintain this to help our customers manage their workflow. Reduce overhead, manage supply chains, and say goodbye to storage fees!
Our Value-Added Services
Not only does Bushwick offer an extensive range of inventory, but we also pride ourselves on customer satisfaction. Our value-added services mean that your orders will arrive ready to use. Less time wasted for you, and more happy customers for us!
Product Preparation
We understand that our customers often need specific materials to do their jobs. That's why Bushwick offers customization services for all our products. Our facilities boast state-of-the-art equipment, operated by professionally trained employees. Each cut undergoes strict controls to meet or exceed industry standards. Whether you need basic cuts, complex cuts, or bundle cutting, we've got you covered.
We bend and form angles to suit your needs. Let us know what you need when you place your order, and we'll ensure the products are made to your specifications. We offer both "leg in" and "leg out" customizations on sizes ranging from 2" x 2" x 1/4" to 8" x 8" x 1".
Depending on which products you order, we also offer:
High-definition plasma cutting
Oxy-fuel cutting
Drilling
Tapping
Countersinking
Milling
Carbide scribing
Shearing
Plate bending and forming
Cambering
Section bending
Tee splitting
Customer roll-formed floor and roof decks
Explore all of our value-added services to see why Bushwick Metals should be your top choice for steel products. We always use the latest techniques and modern technologies to prepare our products. Our staff is highly trained and take pride in the work they do for our customers!
24-Hour Delivery
Are you tired of waiting days for your product to arrive? Sick of promises about expedited delivery only for your order to arrive a week later? Not at Bushwick Metals!
We offer immediate delivery on all orders. The reason we're able to make this promise is our truly massive inventory of steel products. Need a specific bar angle or a customized structural angle tomorrow? No problem, we're on our way. Our next-day delivery is so efficient that your order might even arrive early! Our satisfied customers often get their shipments within the 24-hour time frame.
Bushwick Metals: Your Local Steel Distributor
When you need the right products at the right time and a fair price, you know who to call. Bushwick Metals is your number one steel provider on the East Coast. Our facilities in Bridgeport, CT, South Plainfield, NJ, and New Castle, DE ensure the quickest shipments for our customers! We're 100% committed to delivering the highest customer satisfaction through our comprehensive inventory. Whether you need galvanized steel angles or UM plates, Bushwick Metals has it all!
Contact us today to request a quote or order from our massive steel inventory!