How Much Does Commercial Metal Decking Cost?
December 4, 2023 in
Blog
/
Decking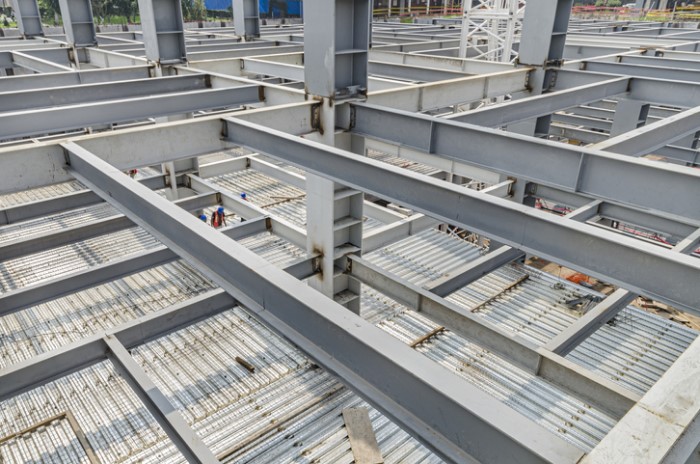 If you're trying to calculate the metal decking cost for a commercial project, the final price will be determined by a range of variables. For this reason, determining an exact price can be difficult. However, understanding the considerations that go into the price can help give an accurate project cost. Continue reading below to learn what those variables are and other relevant information.
Metal Decking Cost Starts With the Market Price of Steel
Steel prices often fluctuate, with heavy price changes happening in as little as a month. Since the market price of steel varies so quickly, you'll want to act on any received quotes as soon as possible. If you have to postpone a metal deck project, you should get a new quote closer to your construction date. Otherwise, you risk being caught by surprise by higher costs than what was initially discussed.
Most commercial decks are created using Hot Dipped Galvanized Steel. The prices of this specific type of steel have been steadily rising over the last few years, thus causing metal decking costs to increase.
Steel Gauge
The steel decking material you plan to use for your project will also vary in price because each steel type has a different gauge. The "gauge" of a metal refers to its thickness, with thinner types obviating less than thicker ones. The higher the gauge of a metal type, the thinner it is.
If the metal decking cost is high and you'd like to build a larger deck, using a thinner gauge can reduce costs. However, the gauges you can use will also depend on the required load-bearing capacity for your deck. Since lighter steel decks will support less weight, they may not be appropriate for certain projects. Standard steel gauges include 22 GA, 20 GA, 18 GA, and 16 GA.
The prices per square foot of each of these gauges can vary based on the general market price of steel, but their averages at current price levels are as follows:
| | | |
| --- | --- | --- |
| Gauge | Weight (lbs per square foot) | Price (per square foot) |
| 22 | 1.9 | $6-$7 |
| 20 | 2.3 | $8-$9 |
| 18 | 2.9 | $9.50-$11 |
| 16 | 3.5 | $11-$13 |
As you can see, using a thicker steel gauge for a larger deck can cost significantly more than using a thinner gauge. For example, building a 100-square-foot deck with 22 gauge steel would cost between $600 and $700 using the above averages. But, the same-sized deck with 16 gauge steel would cost between $1,100 and $1,300. That's a significant cost difference.
Size of Project
The most obvious consideration in your metal deck price is the size of your project. Once you've determined the previous factors, such as steel gauge and type, you can use the size to determine an accurate cost. Generally, there will be other materials necessary in these projects, so don't forget to incorporate those costs into your overall price estimate, too.
Labor Costs
Another factor you'll need to consider is labor costs, which vary significantly based on location and company. If you plan on applying the metal decking yourself, you won't have to worry about labor costs. However, this project is usually best left to professionals since it requires intimate knowledge of safe, efficient metal construction practices.
If you're a project manager or purchasing coordinator who plans to hire someone to apply the metal decking, it's a good idea to shop around for the best companies and local prices.
Remember, it's not always good to pick the cheapest company. You'll also want to verify the company you hire is licensed, insured, experienced, and reliable. Read online reviews and don't be afraid to ask for verification of licensing and insurance. Once you've vetted two or more companies, you can choose the best quote between them.
Metal Decking Cost Depends On The Type
There are two common forms of metal decking used in roof projects, called B Deck and N Deck. Less common forms of metal decking are A Deck and F Deck. For floor decking, common types include B-36 Formlock, W2-36 Formlock, and W3-36 Formlock. The type of metal decking used can affect the price of your materials.
Roof Decking Types
B Deck
B Deck is the most commonly used type and is primarily used to support a built-up roof system. You can find B Deck in gauges ranging from 22 to 16.
N Deck
N Deck is used when you have a long span condition of more than ten feet. You can find this type of metal decking in gauges ranging between 22 and 16.
A Deck/F Deck
A Deck is also called "narrow rib decking" because it has narrowing space. This is an older type of decking and the narrow ribbing makes it weaker than modern types. F Deck is also an older decking type, although it is slightly stronger than A Deck. You'll usually find these decking types used in repair projects when trying to match the existing decking on older buildings.
Floor Decking Types
B-36 Formlock
This type of metal floor decking can accommodate slab thicknesses between 3.5 and seven inches. B-36 Formlock is most often used in short span conditions and can be found between 22 and 16 gauge.
W2-36 Formlock
This type of metal floor decking can accommodate slab thickness between four and eight inches. It can be found between 22 and 16 gauge.
W3-36 Formlock
This is the strongest type of metal floor decking and can support slab thicknesses between five and nine inches. Like other decking types, W3-36 Formlock comes between 22 and 16 gauge.
What Impacts the Total Metal Decking Cost?
Determining a specific metal decking cost is difficult because the overall price depends on various factors. Some of the components influencing your metal deck price are the following:
The

market price of steel

, which fluctuates frequently

The steel gauge used for decking, such as 22, 20, 18, and 16 GA

The size of your metal decking project

The labor costs for your decking project

Roof decking types like B deck, N deck, and A deck/F deck

Floor decking types like B-36, W2-36, and W3-36 form lock
Intsel's Wide Array of Products
Your total metal deck price will partially depend on the products you use to bring your metal deck to life. Intsel has a wide range of inventory options that make us the best option for all your metal decking requirements, including steel and composite decks to meet all your needs.
Intsel's Value Add Services
Beyond the massive range of metal decking products we provide, our team also offers the best value-added services to meet all of your decking and metal needs. Our extensive services include:
Section bending and cambering

Plate processing

Saw cutting

Shearing and bending

Custom roll-formed floor and roof deck

Tee splitting and straightening
With the extent of our services and our exceptional products, you'll get a solution that's truly worth the cost with Intsel.
Intsel's Customer Support
No matter your metal decking needs, you need to choose a provider who is there for you when you need them. Intsel provides high-quality customer support to meet all your requirements during and after your metal decking project.
Our professional team values communication and can help you solve any problems during the decking process. Whenever you need a helping hand, Intsel has you covered from start to finish.
Intsel's Delivery Options
Another reason why people choose Intsel Steel East is because of our next-day delivery service. With Intsel, you can easily meet all of your metal decking project requirements and have your project completed in no time with the materials you need and the services necessary to help you. It's a fast and convenient solution to complete your metal deck efficiently.
We Can Help You Calculate Metal Decking Cost
Intsel Steel East is the leading steel distributor for all your metal decking needs, providing the best decking materials and vital services to help you complete the job. Intsel Steel East has a dedicated team of professionals committed to providing solutions to complete your metal decking project.
Request a quote from Intsel Steel East today to determine your overall metal deck price!