Bushwick Metals' Value Added Services Continue to Grow
December 12, 2013 in
Press Release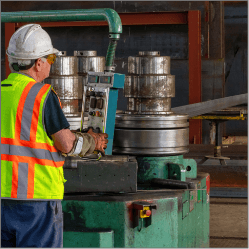 Bushwick Metals LLC is pleased to offer a variety of new Value Added Services that will enable customers to outsource many time-consuming activities which slow production or create bottlenecks. A Peddinghaus HSFDB 2500 plate processor has been installed, expanding upon the capabilities of their existing Messer MG Titan Plasma and Oxy plate processing tables. The Peddinghaus is capable of drilling, tapping, countersinking, milling, scribing and high-definition plasma cutting. "These are some of the most difficult and time-consuming processes for many of our customers to perform," reports Bushwick Metals executive VP Stewart Lichtman. "We can now provide customers with very high-quality parts and fast turnaround times at a significant savings compared to our customers doing these processes in-house." Bushwick's plate processing department uses the latest CAD software technology, resulting in better nesting to reduce material cost and scrap loss. In response to their well-received 2012 introduction of rotary tee splitting, straightening, and section bending services, Bushwick Metals has also added a new Roundo R7S section bender. This additional section bender enables the company to quickly and accurately roll to radius a wider array of steel shapes to meet customer specifications. "Bushwick Metals is the only full-line service center to provide all of these processes under one roof," explains Lichtman. In addition to the above-mentioned Value Added Services, Bushwick Metals also offers plate rolling, punching, rebar fabrication, sheet/plate shearing and bending, beam cambering, saw cutting and custom deck sizes..
About Bushwick Metals LLC
Bushwick Metals LLC, based in Bridgeport, Conn., is a distributor of carbon steel, hi-strength-low alloy steel, stainless steel, and specialty products. Bushwick Metals and its affiliate companies, including Marmon/Keystone LLC, a distributor of steel and aluminum tubular products, are Marmon Distribution Services/Berkshire Hathaway companies and members of The Marmon Group, an international association of more than 150 business units that operate independently within diverse business sectors.