Bushwick Metals adds cambering machine at their NJ plant
February 27, 2006 in
Press Release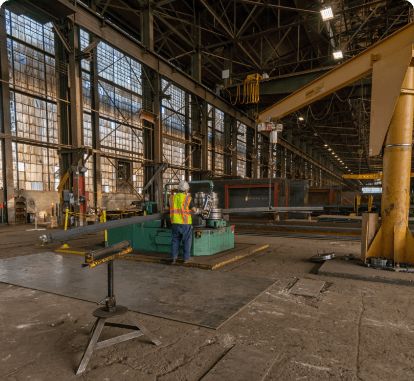 Bushwick Metals, Inc., Bridgeport, Connecticut, is installing a Cambco Model 1170 cambering machine at its South Plainfield, New Jersey plant. The new cambering machine will be capable of cambering beams as large as W40x244#. This new machine will add capacity and size range to the existing Cambco Model 700 machine currently in operation at the Bridgeport facility. Azco Steel, a Bushwick Metals division specializing in marketing hard to find jumbo beams, will also offer this new service to its customers throughout North America.
According to Larry Sullivan, production manager, "The additional cambering machine in South Plainfield will give us the ability to camber much larger beams and gives us the advantage of cambering at multiple locations. This will reduce transfers between plants, increase efficiency and offer better service to our customers throughout the region." The new cambering equipment is expected to be up and running in the first quarter of 2006.
Bushwick Metals has been servicing the Northeastern United States since 1829 with an extensive inventory of carbon steel, high strength low alloy and stainless steel products. Bushwick Metals, Inc. is an affiliate of Marmon/Keystone Corporation, a leading distributor of carbon, alloy, stainless and aluminum tubular and bar products, based in Butler, Pennsylvania.
Bushwick Metals and Marmon/Keystone are members of The Marmon Group, an international association of more than 100 companies that operate independently within diverse business sectors. Member companies have collective revenues of $6 billion.