Order Galvanized Grating Online!
November 24, 2020 in
Blog
/
Expanded Metal & Grating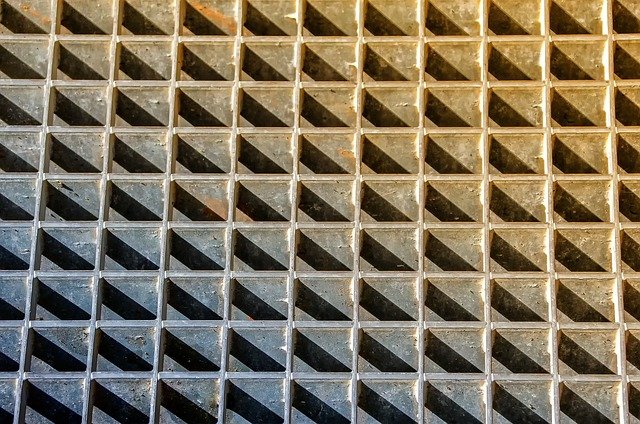 Grating is important in industrial, commercial and even residential settings where it is often used for outdoor or emergency access. Grating has been around for a long time and is generally a manufactured grid or metal lattice of parallel bearing bars held within a frame.
There are a number of advantages to pedestrian grating; it refracts direct light, yet lets light through. It does not form a solid floor and so allows air, noise, and water to pass between floors if required. This is great for an industrial setting, but its non-slip design also adds security and safety to users in wet or slippery environments. It's often found in snowy or wet places. The robust nature of pedestrian grating means that it's perfect for emergency exits. 
Given gratings use outdoors, galvanization is normal. Galvanized steel is much more resistant to corrosion than even our top-notch modern steels. Galvanization is where a protective layer of zinc is applied, coating the steel to prevent corrosion and rusting. While stainless steel offers this same protection, it is much more expensive. Generally, unless there is a very good reason (such as prolonged exposure to acid), galvanized grating is the way to go.
Galvanized Grating At Bushwick Metals
At Bushwick Metals, we have a huge selection of galvanized steel gratings. Our grating is manufactured using the automatic weld forge method, which is made by electronically fusing the steel crossbars to the loaders. The Automatic Weld Forge Method results in a sturdy one-piece constructed panel that can be applied and installed quickly and easily. 
Our grating is available with either smooth or serrated surfaces. Typical applications for our range are floors, decks, fire escapes, and walkways. They are available in various finishes: black painted, galvanized, or mill finish bare. We make our galvanized gratings to NAAMS Standards. 
Welded Bar Grating Stair Treads
Our welded stair treads are manufactured from 194 standard grating with a patented floor plate nosing and pre-punched endplates to facilitate installation. These weights are based on use of 194 Welded Grating and a base tread length of 18″. Get in touch and we'll help you re-calculate weights if you want to use a different size length or tread.
Close Meshed Grating
Bushwick Metals' Closed Meshed Grating is a pressure locked grating product, produced with close bar spacing to accommodate the requirements for pedestrian comfort and safety. Our closed Meshed Grating is available in carbon steel, stainless steel, and aluminum. The product complies with standards as established by the American Disabilities Act (A.D.A.). We can help you customize this product to meet your needs. 
Grip Strut® Saftey Grating
The unique one-piece diamond-shaped construction of grip strut provides slip resistance in all directions. Grip Strut is a lightweight metal grating designed for safety underfoot. It is ideally suited for walking/working surfaces where mud, ice, snow, grease, oil, and detergents create slippery or hazardous conditions. 
We also offer Grip Strut Heavy Duty Safety Grating, a plain HRP&O Steel and Aluminum which is also available to be Hot Dip Galvanized after fabrication. Take advantage of our expertise. Ask us how this product can help you. It's a one-of-a-kind plank grating solution sporting a hefty 24-foot clear span capacity that can handle heavy loads. 
Grate-Lock® Interlocking Mezzanine Grating
Grate-Lock Grating is an easy-to-install system of interlocking planks, treads, and accessories, providing safe, sturdy footing for mezzanine floors, platforms, walkways, and other applications. Increased load performance has been achieved through interlocking planks and a "ventilated" rung design. Hundreds of sole-gripping dimples ensure a safe surface in all kinds of environments. Grate-Lock lets you specify lighter gauge steel for substantial material savings. Ask us for more information on this innovative product. 
Grip Strut® Stair Treads and Ladder Runs
We also offer a full range of standard and nonstandard Stair Tread products from Grip Strut, Heavy Duty Grip Strut, Perf-O Grip Traction Tread, and Grate-Lock. Our products can come with or without abrasive nosing. Grip Strut On-Diamond Ladder Rungs are perfect in environments where safe footing is hard to come by. Grip Strut Ladder Rungs ensure maximum slip resistance and secure footing. Traction Tread Ladder Rungs are ideal for use in hand-over-hand ladder applications where safe footing is also required. You can buy it online, but if you have any special requests or questions, don't hesitate to contact us. 
Buying Online At Bushwick Metals
These galvanized grating products are available on our website today. With our sizable warehouses, these items are usually in stock and ready to be shipped out as early as the next day. If you have any questions or need some advice, take advantage of our 190 years of experience in the metals industry. Get in touch Toll-Free at 1-855-4INTSEL or email [email protected].