Maine Steel Supply – Next Day Delivery
September 19, 2022 in
Blog
/
Steel Supply
/
Value-Added Services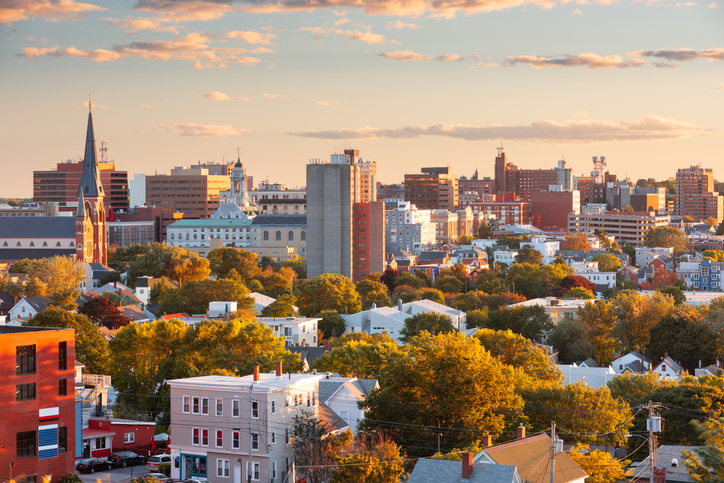 Projections show that the global metal fabrication market will reach a size of $29.46 billion by 2029.
Steel is the most widely used metal on the planet, and suits applications in a wide range of industries. It has several useful characteristics, and different types are available which provide varying properties. If you need a Maine steel supply, Bushwick Metals has got you covered.
Our Products
At Bushwick Metals, we have a huge steel supply. We offer a range of parts that we keep our warehouse stocked with so you can get what you need, when you need it.
Bars
We stock bars in a range of shapes – some quite common, and others that aren't seen so much. We have round, square, flat, and strip bars of various types:
Hot-rolled
Merchant-quality
Special quality
Low-carbon
High strength low alloy
With this much choice, and our various bar steel grades you should almost always be able to find exactly what you need. If you're doing a project that has very specific requirements, we can fabricate something to your exact specifications.
Angles
We have a huge range of angle varieties ready to go. This includes structural angles, galvanized angles, and bar angles. All of these are available in various sizes. Our galvanized angle is made of A123 steel, and our bar and structural angles are available in the following grades:
A36
A572
A588
A709 and AASHTO M270 upon request
We also offer a range of services that can be ideal if we don't have exactly what you need in stock. We can cut angles down, or bend them to a specific radius.
Plates
Steel plate is used in various applications, and as such, we keep a range of types in stock. Our plates are available in various grades to provide different yield strengths, and other properties such as abrasion and corrosion resistance. We also have varying thicknesses and can carry out different processes such as bending or cutting. The finishing processes we can use depend on the type and thickness of the plate in question.
Channels
Steel channel has a range of uses such as in walls, vehicle frames, trailers, and window/door frames. We stock channels that are suitable for any of these applications, as well as others. With various grades, types, and lengths available, we have almost all needs covered. If you need something specific that we don't have in stock just let us know and we'll get it sorted for you.
Why Bushwick Metals?
Bushwick Metals is more than just a Maine steel supplier. We also offer various services that make us the best choice around for all of your Maine metal needs.
Value-Added Services
At Bushwick Metals we provide various value-added services. With these, you can get any steel parts you need, made to your exact specifications. This ensures you can complete your project without any compromises.
Saw Cutting
Whatever you're after, we can cut it down to the exact size you need. Whether it's bars, channels, angles, or something else. Just let us know the exact lengths you're after, and we'll get your steel cut down ready for collection or delivery.
Plate Processing
There are plenty of processes we can perform with plates. This includes things such as:
Drilling
Tapping
Oxy-fuel cutting
Milling
High-definition plasma cutting
Countersinking
Carbide scribing
We can handle all of these with a single machine, increasing efficiency and getting your parts finished faster. We use specialized software that reduces the amount of waste material, helping to keep costs down.
Shearing and Bending
Along with the various plate options we have on offer, we're also able to share plates anywhere from 16 gauge to 5/8″ thickness. We also have multiple press brakes that are capable of bending plates up to 1/2″ thick.
Section Bending and Cambering
It's common for projects to require bent sections. We want to make sure you have everything you need, so we can bend any parts before sending them out to you. This includes bars, beams, channels, tees, angles, and more. Our technicians can bend these parts to almost any shape, so even if you need something unusual, we can take care of it.
We're able to camber beams up to 40″ wide as long as they're at least 25′ long. The max camber depends on the dimensions of the beam in question.
Tee Splitting & Straightening
Splitting and straightening can be a difficult process. They often cause beams to bow or twist, which can lead to them splitting. We use a rotary-mechanical shear, which avoids traditional thermal cutting techniques. Because of this, our beams experience less internal stress, helping to keep them much straighter. We also use our roll-straightening service to further ensure our tees are as straight as possible.
Custom Roll Formed Floor and Roof Deck
Using our state-of-the-art roll former, we can roll different types of roof deck and composite floor deck. This can be painted or galvanized, and we can provide thicknesses anywhere between 16 gauge and 22 gauge.
Next Day Delivery in Maine
There may be other steel suppliers around, but you'll have a hard time finding one with anywhere near our level of stock along with the added value-added services we provide. On top of that, we offer next-day delivery throughout Maine, so we can get your parts out to you as soon as you need them.
Maine Steel Supply
For the most reliable Maine steel supply available, look no further than Bushwick Metals. We maintain a huge stock at all times, and if there's anything we don't have, we'll be able to get it for you.
If you have any questions for us, click here to contact us today.